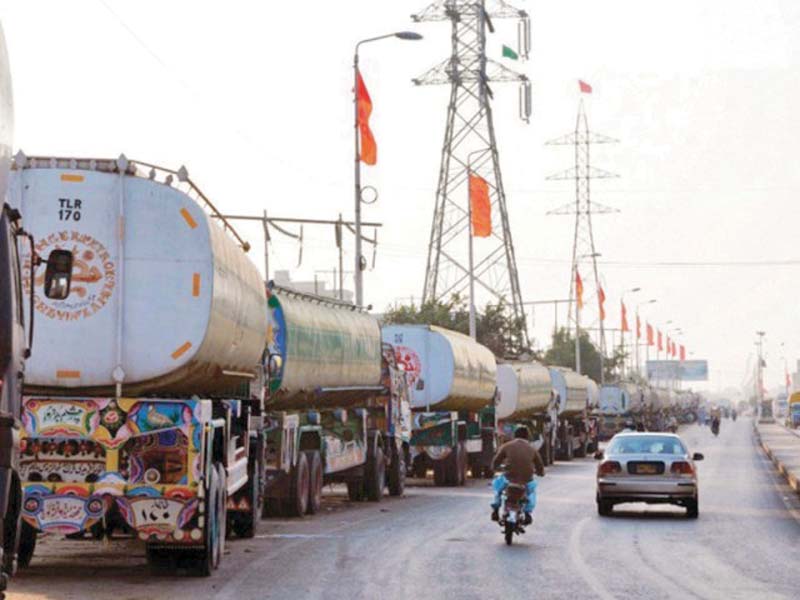 ---
ISLAMABAD:



Barons of the oil industry have extracted billions of rupees from the pockets of consumers by abusing the inland freight equalisation margin (IFEM), causing great annoyance for the petroleum and natural resources minister.




According to officials aware of the development, the culprits in the oil sector are recovering Rs8 billion annually from the consumers with the help of fake documents pertaining to freight on transportation of petroleum products to different parts of the country.

Governments vie to lead oil and gas market

Petroleum Minister Shahid Khaqan Abbasi has warned oil marketing companies (OMCs) on several occasions that they should shun such practices, but this has not borne fruit because of lack of interest and monitoring by the Oil and Gas Regulatory Authority (Ogra) and the Ministry of Petroleum.

The government follows a policy of equal petroleum product prices across the country to enable all citizens to purchase petrol and other oil products at uniform prices whether they live in Karachi or remote areas of Balochistan, Gilgit and Khyber-Pakhtunkhwa.

Pakistan faces a significant deficit in domestic supplies and is compelled to import crude oil and finished petroleum products to meet the growing demand. Such imports reached almost 22 million tons in financial year 2014-15.

Three major oil refineries and two seaports are in Karachi that make available 70% of petroleum products in the south of the country. Consumption centres in northern parts get only 30% of the products. These are supplied from Karachi to Punjab, Khyber-Pakhtunkhwa and Balochistan with the help of pipelines, railway wagons and oil tankers.

This requires a huge transportation cost, which was borne previously by the government by reimbursing freight bills to the OMCs. After adopting a deregulation policy in 2000, the government shifted the burden onto end-consumers in the shape of IFEM being part of the pricing formula.

The freight pool is managed by the OMCs under the supervision of Ogra. The consumers pay around Rs3.5-4 on per litre of petrol and Rs1.2-1.6 on high-speed diesel as the freight margin.

Four petroleum products - petrol, high-speed diesel, kerosene and light diesel oil - are part of the freight pool whereas high octane blending component, jet fuel and furnace oil stand deregulated as their prices are set by the market.

The total cost of transporting around 13 million tons of petrol, diesel, kerosene and light diesel oil is estimated at around Rs38 billion per year.

However, according to officials, the IFEM mechanism is misused by the marketing companies that do not supply petroleum products to destinations in Punjab, Balochistan and Khyber-Pakhtunkhwa but claim the freight margin. All stakeholders have a share in the misuse including tank lorry contractors, OMC officials and people monitoring it.

In 2014-15, petrol consumption grew over 27% in Punjab as around 3.3 million tons were sold. In contrast, sales in Sindh grew just 5%, which is incomprehensible.

In the illegal business, a tank lorry is supposedly sent from Karachi to Punjab, but it never reaches the destination and its cargo is sold in Sindh. Its transportation cost is Rs250,000, on which freight is claimed, and it is shared by the stakeholders.

Only papers are sent through courier and the persons responsible for checking the lorry put receiving stamps after taking bribe.

Smaller OMCs are abusing the system and the money is pocketed by employees of these companies in collusion with the dealers and lorry owners.

Oil and gas royalty: OGDCL has paid Rs229.7b to all provinces

A close analysis shows daily sales of these companies in Punjab totalled more than 10,000 litres of diesel per pump, which is three times higher than the industry average.


Similarly, their daily petrol sales are more than 6,000 litres, which is twice the industry average. Balochistan and Khyber-Pakhtunkhwa are also facing a similar situation. "If this abuse is controlled, prices of petroleum products can go down further by Rs1 per litre," an official said.


Published in The Express Tribune, April 8th,  2016.

Like Business on Facebook, follow @TribuneBiz on Twitter to stay informed and join in the conversation.