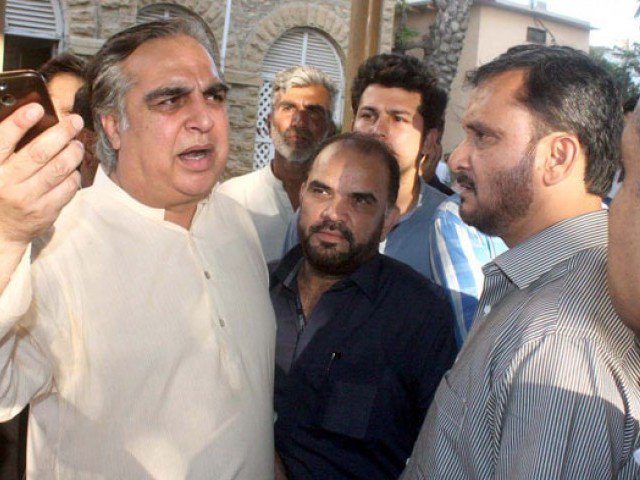 ---
KARACHI: Pakistan Tehreek-e-Insaf (PTI) has demanded that the Election Commission of Pakistan (ECP) declare the by-elections in NA-245 null and void and announce a new date for re-elections in the constituency after its candidate, Amjadullah Khan, withdrew in favour of the Muttahida Qaumi Movement (MQM).

PTI leader Imran Ismail, while addressing a press conference on Thursday at Insaf House, demanded the ECP investigate how PTI's candidate withdrew in favour of the MQM at the eleventh hour. He said a video has surfaced of the candidate's father admitting that his son was being pressurised.

Pakistan Peoples Party leader Najmi Alam had also claimed that Khan was demanding monetary favours from the PPP but had been refused.

Ismail insisted that the ECP officials must take notice of what happened or at least call someone from the PTI, MQM, the candidate or Alam for an inquiry. He criticised the commission and said that, instead of conducting such poor elections, it would have been better to distribute seats among the parties without the election. While explaining the reasons for Khan's withdrawal, Ismail termed it a "publicity stunt". He explained that Khan was scared and had lost all courage after MQM workers attacked one of his camps. Ismail said Khan had asked them to withdraw his candidacy as he had lost his confidence.

Ismail told the media that he had no clue where Khan was until he received an SMS from MQM MNA Ali Raza Abidi which said, "Watch our press conference, you will love it".

He termed the sudden withdrawal a "jolt" for his party and its workers. "I apologise to all party workers and regret that the ticket was awarded to him instead of a loyal worker," he said.

Sleepless night

Soon after the news reached PTI workers, they arrived at Insaf House in protest. A press conference was also called by the PTI leaders at around 3am, which was later cancelled after the situation turned out of control.

Ali Zaidi, former PTI Karachi president while talking to The Express Tribune, said that workers began arguing among each other, as they worked hard during the campaign and were angry about what happened.

Responding to Ismail's charged press conference, Khan said he was neither pressurised nor did he demand money from anyone. PTI lacks sincere leaders, he said.

Published in The Express Tribune, April 8th,  2016.