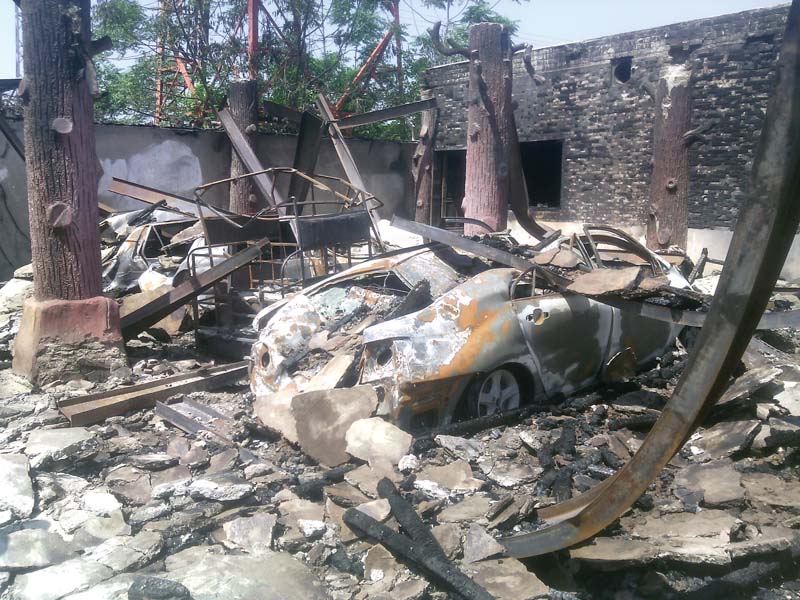 ---
SHABQADAR: Unidentified men set ablaze a guesthouse and vehicles in Angor Kor, Michni Wednesday night.

Wilayat Khan, an official of Sro Kalay police station, told The Express Tribune said the guesthouse was owned by Haji Amir Nawaz, a local transporter.

"The fire has completely gutted the guest house," he said. "Two vehicles and a rickshaw were also damaged."




According to the police official, unidentified men reached the site at around 11pm and set the guesthouse and vehicles on fire.

Interrogation

The police interrogated two people in connection with the incident. "Of the two people, one was a security guard at the guesthouse while the other was a guest,"
Wilayat said.

Both men informed the police that three unidentified armed men barged into the guesthouse on Wednesday night and sprinkled kerosene oil around the premises.

However, they managed to escape the site after committing the offence. According to the security guard and the guest, the fire has resulted in considerable damage and valuables worth millions of rupees have been reduced to ashes.

Suspicion

When contacted, Nawaz said he has no enemies. "However, a few days ago, one of my tractors was attacked by unidentified men," he said. "The police suspected that it was a case
of extortion."

The police have reason to believe extortionists may have set Nawaz's guesthouse and vehicles on fire after he refused to pay them money. Following the incident, the law-enforcement agencies conducted a search operation in the area. However, no arrests were made till this report was filed.

Published in The Express Tribune, April 8th,  2016.

 
COMMENTS
Comments are moderated and generally will be posted if they are on-topic and not abusive.
For more information, please see our Comments FAQ