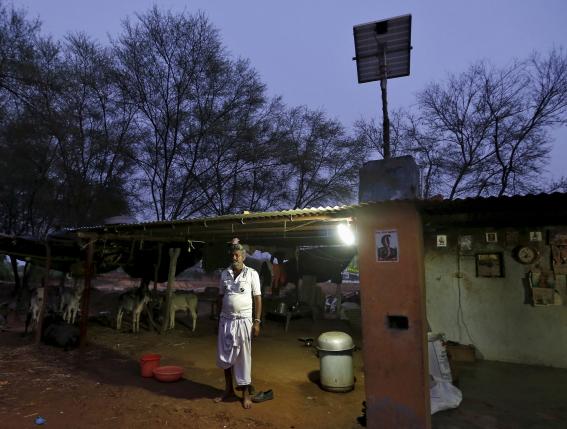 ---
The likely collapse of SunEdison Inc's (SUNE.N) solar project in India, the first of 32 planned "ultra mega" complexes, could delay Prime Minister Narendra Modi's goal to increase renewable energy fivefold by several years and probably cost consumers more.

As the US solar giant fights to stave off bankruptcy, the 500 megawatt project in Andhra Pradesh state it won last November lies idle with ground yet to be broken. The other projects are still to be bid on.

Speakers call for global response

It's doubtful any rival will pick up the project at the aggressive power pricing promised by SunEdison, which beat out 29 other bidders with a record-low tariff of 4.63 rupees (7 U.S. cents) per kilowatt-hour.

That will force Indian officials to tighten auction rules to ensure that only serious, bankable bidders show up, industry sources said. India plans to auction more of the "ultra mega" projects - those which generate at least 500 MW - in the current fiscal year through to March 2017.

"There is always a tradeoff," Upendra Tripathy, secretary at the Ministry of New and Renewable Energy, told Reuters of the renewable energy auctions.

"There can be a relaxed condition so that more people can participate and there is another where you can make sure fly-by-night operators can't come in. It's an ongoing process and we are open to suggestions."

A first: Persimmon profits turn curse of climate change into a blessing

Tightening auction rules could slow the pace at which projects are awarded and built, pushing back Modi's goal of expanding solar capacity to 100 gigawatts by 2020 to the middle of the decade, say officials and industry players.

Tripathy, however, said India will for now stick to its goal, set by Modi soon after taking office in 2014, and that it has planned for SunEdison-like bumps in the road with a strong project pipeline.

Modi is banking on India's 300 days a year of sunshine to help fight climate change rather than committing to emission cuts like China. But he has also pushed firms to provide cheap power, which risks leaving too little profit on the table.

Heavily indebted SunEdison, which according to one of its publicly listed units could soon file for bankruptcy protection, drew criticism from analysts for its low winning bid for the Andhra project.

The company is now exploring a sale of its Indian assets of around 1 GW or seeking partners for them, sources said, and has drawn preliminary interest from billionaire Gautam Adani's fast-expanding Adani Group. Apart from the Andhra project, SunEdison has several other small plants under construction across India.

POSSIBLE RE-BID

A person close to Adani said the low tariff agreed for the Andhra plant will make any deal with SunEdison difficult for Indian firms, which have a relatively high cost of capital. If no buyer is found, the project could be re-bid, the industry sources said.

SunEdison did not respond to multiple requests for comment.

"The tariffs are a tad aggressive and that may not be healthy for developers themselves and also for others in the ecosystem ... manufacturers and financiers," said Santosh Kamath, head of renewables at consultancy KPMG India. "That might be a warning signal for the industry."

PM to inaugurate 'solar parliament' next week

SunEdison's troubles notwithstanding, India has attracted deep-pocketed investors to its $100 billion solar energy programme - the biggest in the world.

Japan's Softbank Corp (9984.T), Taiwan's Foxconn (2354.TW) and India's Bharti Enterprises have separately pledged to invest a total of about $20 billion in India's renewable sector. Global solar giants like First Solar Inc (FSLR.O), Trina Solar Ltd (TSL.N) and Finland's state-controlled utility Fortum Oyj (FUM1V.HE) are also expanding their presence.

India wants the share of non-fossil fuel in total installed power capacity to jump to 40 percent by 2030 from 30 percent currently.

Challenges include the weak finances of state distribution companies forced to sell subsidised power, difficulties hooking up solar projects to grids, and access to affordable capital. Land acquisition is also an issue that Modi's government has been unable to fix - a 500 MW solar project needs on average 2,000 acres (800 hectares).

"Given the energy deficit, need for energy security and sustained economic growth, the potential clearly exists for 100 GW of solar (energy) in India," said Sujoy Ghosh, country head of First Solar. "The question would be on the timelines in which the goal is achieved."

The government is trying to persuade state banks to extend loans to solar projects, but most lenders are saddled with bad loans and unlikely to risk getting exposed to renewable projects with low rates of return.

To avoid projects getting stuck for a lack of backing, India should make it mandatory for solar bidders to get funding assurances from banks at the beginning of an auction to ensure only serious players take part, analysts said. Tripathy, the government secretary, said he could consider the suggestion.

"We'll have to take care that projects don't become unviable," KPMG's Kamath said. "If some projects become unviable then banks will stop lending to new projects and then they get stranded, like we have seen in the power and road sectors in the past."