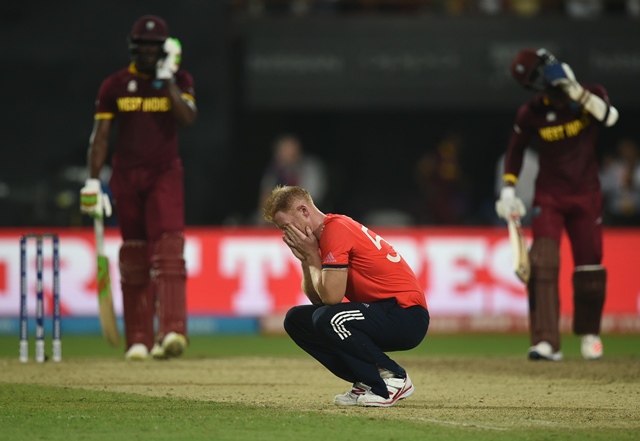 ---
LONDON: Ben Stokes can recover to become one of England's best ever players after his World T20 nightmare when he was hit for four sixes in the last over of the final, team mate Stuart Broad said on Wednesday.

England looked on course for victory in Sunday's showpiece against the West Indies before Carlos Brathwaite sent the ball soaring over the boundary rope four times in a row to clinch a dramatic win in Kolkata's Eden Gardens.

[/fbvideo]

Comebacks to match Brathwaite's blitz

Stokes was left crestfallen on the pitch as the West Indians celebrated wildly. He could, however, emerge a better player for the chastening experience, according to Broad.

"This will play a big part in making him a very strong character," Broad, the world's top-ranked test bowler, told the BBC.

"You always learn more from making errors than from the good days...

"He's got every attribute to be one of the best cricketers England's ever had. I'm sure he will become that in the future."

'Cruel' on Stokes, says proud Morgan

Broad suffered a similarly embarrassing over at the 2007 World T20 when he was hit for six sixes by India's Yuvraj Singh.


His advice to Stokes was to analyse what went wrong and then forget about it for the rest of his career.

"What he needs to do while he's sitting at home is he will have to remember in his own mind how he was feeling, what would he do differently if he is in that situation again, was he rushed and did he take advice from the wrong people," Broad added in The Telegraph.

"Then he's got to decide all of that in his own mind, find the answers and put it to bed. Then you park it. You don't watch it again and you never talk about it again until you finish playing. You just focus on what you can do to improve."