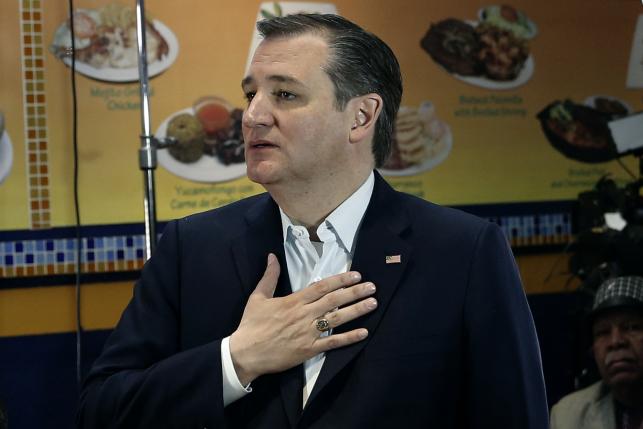 ---
WASHINGTON/NEW YORK: Donald Trump's Republican rivals were invigorated on Wednesday by the front-runner's loss in the Wisconsin primary and moved quickly to bolster efforts to block the New York billionaire from capturing the party's presidential nomination.

Ted Cruz's emphatic victory in Wisconsin on Tuesday night dealt momentum to his once long-shot bid to force a contested convention in July by blocking Trump from amassing enough delegates to secure the nomination.

Ted Cruz, Bernie Sanders win Wisconsin

The US senator from Texas made the case he is increasingly viewed as the main Trump alternative by Republicans who cannot bring themselves to support Trump as their nominee for the November 8 election.

Allies of Ohio Governor John Kasich, who is positioning himself as a mainstream candidate who could emerge from a contested convention, met in Washington to brainstorm about how they could use obscure procedural rules to their advantage when the party convenes in Cleveland.

One group trying to defeat Trump, who has alarmed many Republican establishment figures with his comments on immigration, Muslims and trade, was hopeful on Wednesday of a cash infusion to fund their efforts.

"Our funders are committed to nominating a principled conservative that can win in November and can help Republicans up and down the ballot," said Katie Packer, who is leading the anti-Trump Our Principals PAC.

"They understand that this is a long slog now and they are supportive of our mission and strategy. I expect that we will have the funds necessary to execute."

US Senator Rob Portman of Ohio, former Senate Majority Leader Trent Lott, lobbyists and congressional staffers were among those who met with Kasich advisers on Wednesday to discuss what one Republican congressional staffer present admitted was the governor's "long-shot" bid. He has won only his home state in nominating contests so far.

Clinton, Sanders audition for role as anti-Trump candidate

Kasich's campaign has "a plan going into the convention ... and if the convention goes to a brokered convention, they have a legitimate chance," the staffer said.

SHIFT TO NEW YORK

The next big test in stopping Trump will be New York, the state he calls home. A Monmouth University poll of New York Republicans released on Monday showed Trump with 52 percent of the state's support, a huge lead over Kasich at 25 percent, and Cruz at 17 percent ahead of the state's April 19 primary.

Trump held a rally in Bethpage, New York, on Wednesday evening where he referred only obliquely to his Wisconsin loss, saying it "takes guts" to run for president and criticising Cruz for drawing small crowds in the state.

The Trump campaign also announced members of its New York-based team, including party leaders in each of the state's 27 congressional districts.

"It's very important for Trump to bounce back strong. The sense of his inevitability is one of his strengths," said David Yepsen, director of the Paul Simon Public Policy Center at Southern Illinois University.

Cruz met with black and Hispanic religious leaders earlier in the day in the New York City borough of the Bronx.

Man charged with assault at Trump rally appears in court"The men and women of Wisconsin resoundingly rejected (Trump's) campaign," Cruz told reporters afterward. "Donald has no solutions to the problems that we're facing."

A Reuters/Ipsos poll on Tuesday showed Cruz statistically even with Trump among Republicans nationally. His recent gains marked the first time since November that a rival had threatened Trump's standing at the head of the Republican pack.

Trump has 743 delegates, Cruz 517, and Kasich 143, according to an Associated Press count. Trump would need to win about 55 percent of the remaining delegates to reach the 1,237 threshold.

"We fully expect this to go to Cleveland," Packer said of the anti-Trump effort.

Bernie Sanders wins Michigan Democratic primary: US networks

CLINTON GOES ON ATTACK

On the Democratic side, Bernie Sanders, a Brooklyn-born US senator representing Vermont, is trying to stage a come-from-behind upset of Hillary Clinton, but will struggle to overcome a large deficit in delegates.

Sanders' big win in Wisconsin, which brought his victory tally to six out of the last seven contests, added to Clinton's frustration over her inability to knock out a rival who has attacked her from the left. That frustration was on full display on Wednesday when the former secretary of state gave two live televised interviews in which she criticized Sanders.

In contrast to a Republican primary season that has been rife with personal insults, the Democrats have largely avoided personal attacks and stuck to policy arguments. But Clinton attacked Sanders for his position on guns and said he lacked a depth of policy understanding.

"You can't really help people if you don't know how to do what you say you want to do," Clinton said on MSNBC's "Morning Joe."

She criticised him for an interview to New York's Daily News in which he failed to offer specifics on how he would break up large banks - a key part of his campaign message - when he was asked how he would put to use the existing financial regulation Dodd-Frank law.

Donald Trump cancels appearance at conservative conference

"It's not clear that he knows how Dodd-Frank works," Clinton told CNN in an interview on Wednesday afternoon.

The Democratic Party nominating race moves to Wyoming on Saturday before New York on April 19.