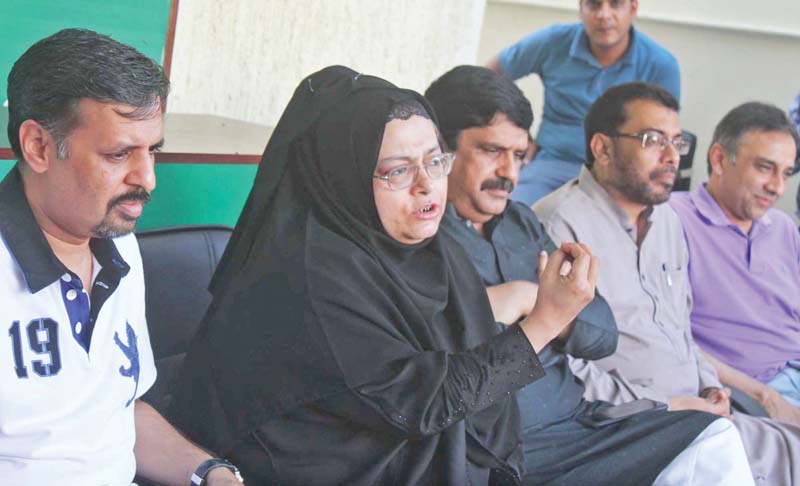 ---
KARACHI: In another blow to the Muttahida Qaumi Movement (MQM), its MPA and senior leader Bilqees Mukhtar on Wednesday ended her 30-year association with the party and joined the dissident faction Pak Sarzameen Party (PSP).

"For around a month I have been listening to their [Mustafa Kamal and Anis Kaimkhani] conversations and felt the truth and suffocation inside me," Mukhtar said at a press conference at former Karachi mayor Mustafa Kamal's DHA residence on Wednesday. "I have decided to say 'Labaik' to their call."

Mutkhtar, commonly known as Bilquees Baji, is most famous for breaking the locks at MQM's headquarters cum Altaf Hussain's residence at Nine-Zero three months after it was sealed during the army operation of 1992. Later, she was inducted into the party's first Rabita Committee (coordination committee).

She announced that she was also resigning from her reserved seat for women in the Sindh Assembly.

Pak Sarzameen, formed by former Karachi mayor and renegade MQM leader Mustafa Kamal, has seen a number of MQM leaders switch allegiance including Waseem Aftab, Anis Kaimkhani, Raza Haroon, Iftikhar Alam, Dr Sagheer Ahmed and Anis Ahmed Advocate.

Upon returning to Pakistan from self-imposed exile on March 3, Kamal and Kaimkhani had announced their new faction.

"We are people who have been associated with the MQM for 25- 30 years. We have not come to joke, or form a group, we have come together to save your future," said Mukhtar as she urged women and elders to join the dissident group.

She added that she had joined the party in 1986 but said she had grown disillusioned after only hearing slogans and workers being disowned by the party.

Her arrival in the PSP boosts the number of former MQM parliamentarians to three. Alam and Dr Ahmed are the other two parliamentarians who relinquished their posts to join the group.

She is also the first prominent female MQM leader to join the group.

On Tuesday, Mukhtar had also shifted her residence from Azizabad – where she lived just a few houses down from Nine-Zero – to another location in the city.

Published in The Express Tribune, April 7th,  2016.