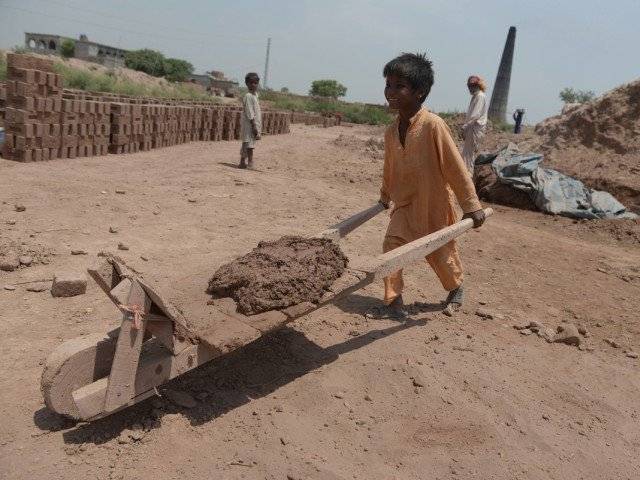 ---
LAHORE:



So far, 92,000 children from brick kilns have been enrolled in schools and 32,000 more will be enrolled within the next 10 days, Population Welfare and Environment Protection Minister Begum Zakia Shahnawaz said on Wednesday.




She was addressing participants of a meeting held to discuss the Punjab Prohibition of Child Labour at Brick Kilns law, organised by Bonded Labour Liberation Front (BLLF). Labour Department Secretary Nawazish Ali Khokhar and Pakistan Muslim League-Nawaz (PML-N) and Pakistan Tehreek-i-Insaf (PTI) lawmakers were also present.

"We are aware of the issues raised here and have been pursuing them. Chief Minister Shahbaz Sharif is determined to improve the lives of brick kiln workers and their children and bring them in the social safety net. The government is providing Rs2,000 per month to parents of every child enrolled in schools. The child will be given an extra Rs1,000 per month," she said.

The draft of the bill, enacted in the form of an ordinance, was discussed clause by clause.

The main objection raised by the participants was to the definition of a child, which was anyone below the age of 14.

Iftikhar Mubarik of Plan International said that the age for compulsory education under Article 25(A) was between 5 and 16 years. "The definition of a child in the law, therefore, contradicts the right to education since children with ages between 14 and 16 working at kilns will be less likely to go to school," he said.

Syed Ayaz Hussain, a lawyer with BLLF, said that the age also stood in contradiction to international treaties and conventions of the International Labour Organisation (ILO). "Preamble of the law defines the environment at brick kilns as hazardous for children, adversely affecting their growth, health and education…" Under ILO provisions, any person below the age of 18 should not work in such conditions," he said.

There was also discussion on Sections 3 and 4 of the law that outline the contract of engagement on work and prescribe a limit on the payment of peshgi (advance). The participants said there was no need for a definition of the work contract or its conditions in a law that aimed to protect children from labour. "If child labour is prohibited then what is the need for a contract?" Peter Jacob, the Center for Social Justice director, asked.

Sub-section 6 of the bill was also discussed. It declares that any person whose age is not known and who is found on the premises of the brick kiln will be considered a child working there until proved otherwise by the owner. The participants said that families employed at brick kilns also lived there. Mahar Safdar Ali of the BLLF said brick kilns should operate as any other industry and parents should not be allowed to bring children to work there.

Rafiq said it was important to have families based somewhere other than the brick kilns because it was not healthy for children to live in that environment. He said the children were more likely to take up the occupation if they lived at kilns.Ali said that the contract agreement would bind brick kiln owners to fulfill their obligations. "The respective DCO and other government functionaries will be signatories to such a contract. The issue of nomenclature is also relevant," he said.

Published in The Express Tribune, April 7th,  2016.
COMMENTS
Comments are moderated and generally will be posted if they are on-topic and not abusive.
For more information, please see our Comments FAQ