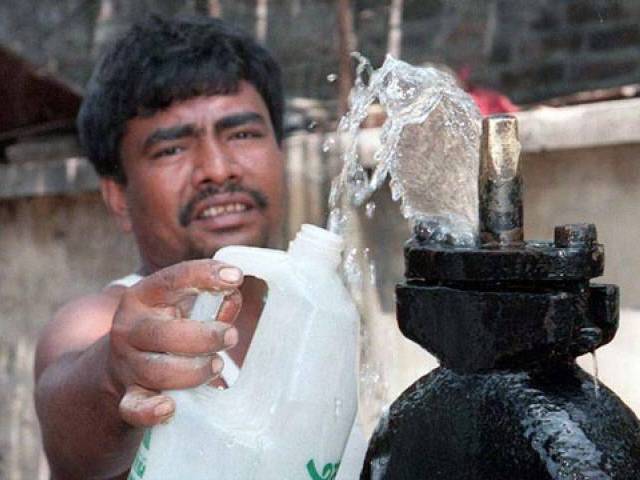 ---
KARACHI: It is alarming that arsenic-laced water is being consumed in the city, which is one of the major causes of cancer, said Dr Zafar Fatmi, an environmental health expert and associate professor at Aga Khan University.

Dr Fatmi was speaking at a seminar, organised by the Federal Urdu University of Arts, Science and Technology (Fuuast) on Wednesday to mark World Water Day, which was celebrated around the world on March 22. He explained how arsenic contamination has greatly affected human health and said failure to provide clean water to the people of South Asia can lead to increased child mortality.

According to him, diseases such as hepatitis, polio, dengue, malaria and diarrhoea are spread through the consumption of contaminated or arsenic-laced water.

Dr Fatmi also said that the contaminated water could also lead to cognitive impairments, cardiovascular diseases and cancer. We need to emphasise on cleaning the internal environment of the house, as well as our bodies so that we do not carry germs, he told the participants of the seminar.

Misbahuddin Farid, managing director of the Karachi Water and Sewerage Board and chief guest, showed a short documentary to the students on how water is supplied and how their system works. He explained that Karachi is the second city in the world to receive its water from 200 kilometres away and said it is not an easy task to manage and distribute the water in such a big city. He said the structure of water pipelines in the city had been laid without any plan, since the people of Karachi settled in areas, which had not been planned, adding that the city's master plan was completed in 2006.

Farid also listed the reasons for the water crisis in the city, explaining that there is a major difference in the supply and demand, as the population of the city keeps on increasing, whereas the water supplyremains the same. One major cause of the water crisis is illegal hydrants, he said. Farid linked most of the city's problems, such as electricity supply and the solid waste management system, with the ever-increasing population.

Sulaiman D Muhammad, Fuuast's vice-chancellor, said that Pakistan is not the only country facing a water crisis but due to our incompetency we have failed to cope with it.

Published in The Express Tribune, April 7th,  2016.
COMMENTS
Comments are moderated and generally will be posted if they are on-topic and not abusive.
For more information, please see our Comments FAQ