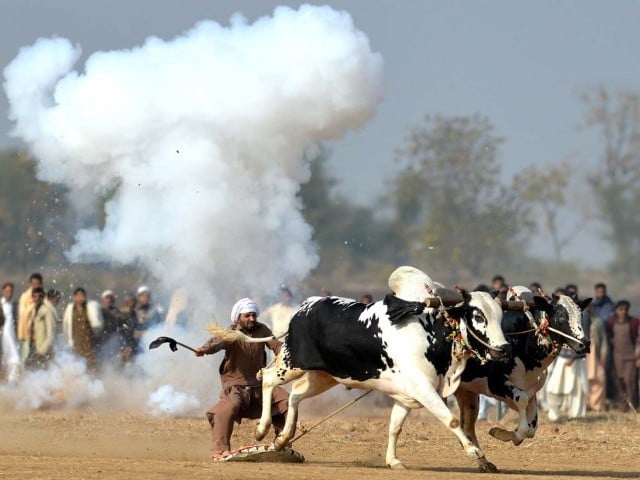 ---
HARIPUR: The annual bull race was held in Bandi Mian Pirdad village in Sarai Naimat Khan union council in Haripur on Wednesday. Organisers of the death anniversary of local saint Hazrat Mian Pirdad arranged the event where 50 pairs of bulls were brought for participation.

India's top court halts bull running festival

The festival commenced with the rampage on the field. The race kicked off in a cloud of dust. Traditionally in these bull races, one man usually balances on a slab of wood behind the racing pair of bulls, attached with a rope. He commandeers them with a rope and a sharp stick. Another man often runs alongside for a short duration, as a guide, eventually leaving the beasts to the single man.

All participants followed these traditional game rules where winning or losing is dependent on time as well as distance. Mostly a competing pair of bulls is supposed to cover 200 to 250 metres within the shortest possible time.

Raging bull

According to results announced on the occasion, the pair of bulls known as Fakhre Hazara owned by Abbas Khan and Nusrat Khan won the race. The owners were awarded a gold medal, a motorbike and cash prize of Rs10,000.

Man becomes 12th to die from bull goring in Spanish fiesta season

The team of Malik Nawaz and Malik Liaqat from Fateh Jang came second and was awarded a refrigerator and cash prize of Rs10,000 while the pair of bulls owned by Chaudhry Abdul Razzaq and Chaudhry Shafique from Azad Jammu and Kashmir (AJK) won third prize. They were awarded a room cooler and cash prize worth Rs10,000.

Adviser to CM Akbar Ayub Khan was the chief guest on the occasion and awarded prizes to winning teams.

The festival is part of village folklore where well-reared pairs of bulls from different parts of the country, including AJK Attock, Fateh Jang, Ghazi and Khanpur are selected.

In 2014, the Supreme Court of India banned bull racing and similar sports in Karnataka and other areas according to the prevention of cruelty to animals act.

Published in The Express Tribune, April 7th,  2016.

 
COMMENTS
Comments are moderated and generally will be posted if they are on-topic and not abusive.
For more information, please see our Comments FAQ