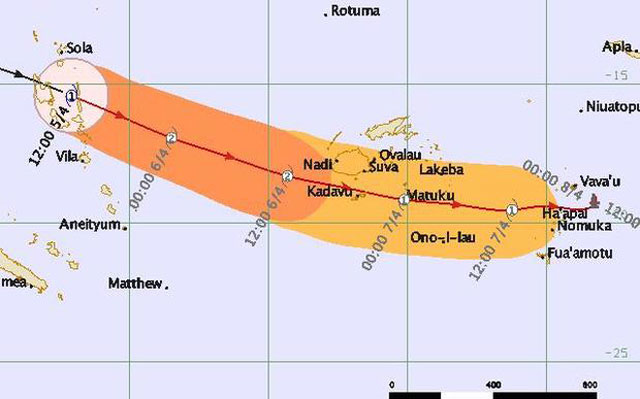 ---
SUVA, FIJI: Authorities in Fiji ordered people to stay inside as a tropical cyclone bore down on the Pacific tourist destination Wednesday, taking no chances after a recent monster storm killed 44 people.

Tropical Cyclone Zena rapidly developed from a low pressure trough to an intense category three storm that was approaching the main island Vita Levu, the Fiji Meteorological Service said.

Fiji cleans up after 'strongest ever' cyclone

It was preceded by heavy rains that left one man confirmed dead and a teenage girl missing in flash flooding that also blocked major highways.

The latest emergency comes with the nation of 900,000 still reeling from super cyclone Winston in February, which left 44 dead, 60,000 homeless and crippled infrastructure.

"To preserve safety and public order prior to the arrival of Tropical Cyclone Zena, all members of the public are to remain indoors and secure their properties until further notice," the government said, adding police would enforce the curfew.

Fiji Airways cancelled most international flights and schools were closed.

The cyclone, packing gusts of 170 kilometres (105 miles) per hour, is expected to brush the south coast of Vita Levu early on Thursday.

The path and intensity of such storms are hard to predict -- Winston appeared to be weakening offshore at one point before roaring back as a category five cyclone with 325 kilometres an hour winds.

While Zena is not expected to match that ferocity, the UN children's organisation UNICEF said it "could not come at a worse time for children and families in Fiji".

"These are the same families that were directly affected by Cyclone Winston just over a month ago," Suva-based spokeswoman Alice Clements said.

"Far too many are sheltering under tarpaulins, pieces of salvaged corrugated iron, in tents or again in evacuation centres."

The Red Cross said volunteers were ready to distribute water purification tablets, jerry cans, and tarpaulins but had to wait for the weather to clear.

Recalling the rains of terror

"As soon as the situation is safe, we will get out and assess the damage," said the charity's Viti Levu western division coordinator, Mohammed Hafiz.

"But it could be Friday, or at worst, Saturday, before this will be possible."

The UN humanitarian agency OCHA said strong winds could bring down temporary shelters and buildings weakened by Winston, while a further 200 millimetres of rain in 24 hours would aggravate the floods.

The agency said almost 3,600 people were already sheltering in 79 evacuation centres.

"(Cyclone) Zena and associated rainfall will add to the distress being experienced by thousands of people across Fiji who remain in transitional shelter since Winston hit in February," it said.
COMMENTS
Comments are moderated and generally will be posted if they are on-topic and not abusive.
For more information, please see our Comments FAQ