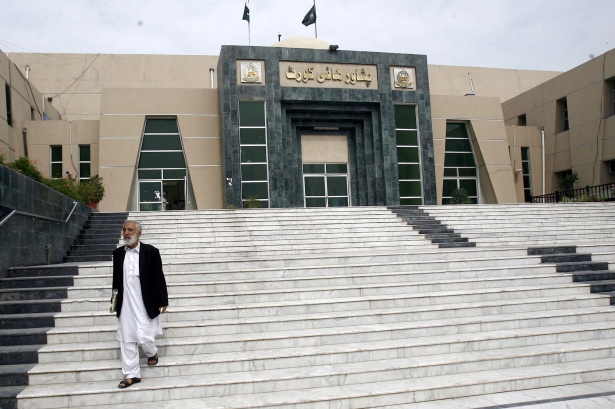 ---
PESHAWAR: The Peshawar High Court (PHC) stayed on Tuesday the execution of three terrorists condemned to death by a military court for terrorism offences.

A two-judge division bench – comprising Justice Waqar Ahmad Seth and Justice Irshad Qaiser – suspended the execution of Fazal Ghaffar, Taj Gul, Mushtaq Ahmad, while hearing judicial review petitions filed by their attorneys.

The bench also extended a stay on the execution of death sentence awarded by military courts to three convicted terrorists Fateh Khan, Bakht Ameer and Ikramullah.

The bench was informed that Fateh Khan, 38, was handed over to the security forces on December 27, 2009 in the Charbagh area of Swat district. Khan's counsel argued that his client used to teach at a local seminary before he was picked up by security forces.

Subsequently, he was lodged in the Paitham internment centre where he remained till his conviction by a military court.

He argued that Khan's family came to know about his conviction through the media. He was charged with attacking security forces' installations. The counsel contended that the charges levelled against him were not true.

He argued his client was not given a chance to defend himself before the military court and no incriminating evidence was produced against him either. He requested the bench to stay the execution till the disposal of the case. The bench accepted the plea.

Similarly, Mushtaq Ahmad's lawyer, Alamzeb Khan, said his client was picked up by security forces on December 20, 2011 and since then his whereabouts had been unknown.

"His family, too, learnt through newspapers that he was awarded death sentence by a military court but in fact the allegations against him are not true," Ahmad argued. He said the applicant was denied the right to fair trial and no substantive evidence had been presented against him during the course of trial.

Similar points were raised before the bench by Taj Gul's lawyer Arif Jan who stated that Gul was handed over to security forces through a local jirga in 2011. He said that his client was awarded death sentence by a military court on various charges, including carrying out attacks on security forces, adding that the charges were not true, and requested the bench to stay his execution.

The bench accepted the pleas and restrained the authorities from carrying out the executions.

The bench also directed the attorney-general, advocate-general and the ministries of defence and of interior to file a reply to the review petitions. The court also extended the stay order of three convicted militants whose executions were suspended by the high court earlier.

Published in The Express Tribune, April 6th,  2016.