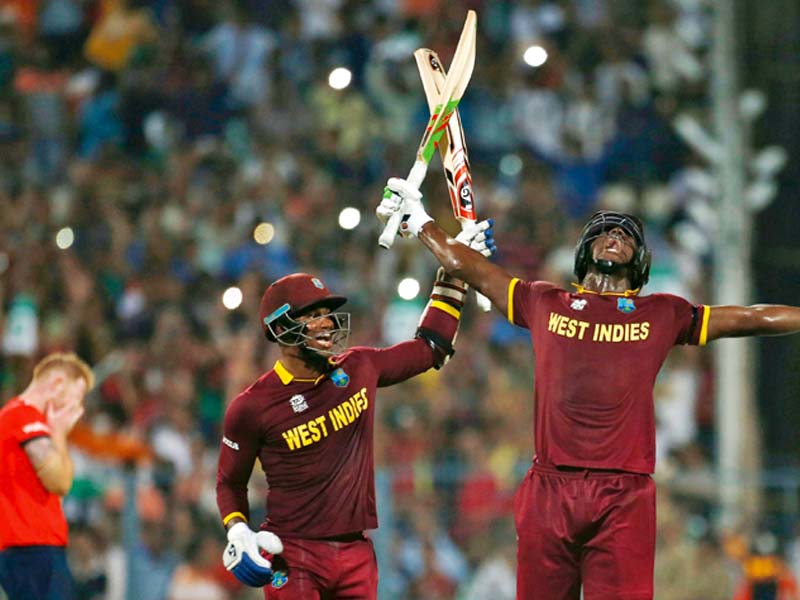 ---
KARACHI: It's human nature to value the present far more than the past. Our self-centredness forces us to believe that what's happening before our eyes is one of a kind, has never happened before and will never again. West Indian Carlos Brathwaite's late cameo in the World T20 at the weekend is a case in point.

Superlatives have been exhausted to describe the Barbadian slugger's four-ball onslaught that turned the championship on its head on Sunday. All this is fine until some go so overboard in their praise of Brathwaite, they start labelling it the definitive come-from-behind moment in sports.

Here are seven more astonishing comebacks that happened at the grandest of stages at the eleventh hour.

Stokes' shattered dream

Manchester United in the 1999 Champions League final

Until the 90th minute, Bayern Munich were leading the 1999 Champions League final in Barcelona's Camp Nou. The mood back in Bavaria was festive, the champagne was about to be popped open, but United forwards Teddy Sheringham and Ole Gunnar Solskjaer hadn't given up yet. The duo scored twice in injury time to break Bayern hearts and turned the Red Devils from losing finalists into new champions and England's only treble winners.


Gaston Gaudio in 2004 French Open final

Argentina's Gaston Gaudio came into the 2004 French Open unseeded and should not have been anywhere near the final, let alone win. To make matters worse, he was up against world number three Guillermo Coria in the deciding match. He could not have had a worse start either as he dropped the opening two sets, including the first in which he failed to win even a single game. When all seemed lost, the ever unpredictable Gaudio came alive. He won the next three sets to complete by far the most shocking turnaround in Grand Slam tennis.


Los Angeles Lakers in 2000 Western Conference Finals

With just 10 minutes and 28 seconds left in the final period of the 2000 Western Conference Finals, the Los Angeles Lakers trailed the Portland Trail blazers by a massive 15 points. To erase such a deficit in that little a time would have been a major ask even for the likes of Shaquille O'Neal and Kobe Bryant. But the improbable happened and the Lakers not only overturned the deficit, the win spurred them to three straight NBA titles.


Windies strike twice to lift two World T20 trophies

Marciano versus Walcott in 1952

Up against a bigger and stronger heavyweight world champion Jersey Joe Walcott in 1952, Rocky Marciano was knocked down in the very first of their 15-round bout. He was dominated for most of the fight, trailed on all three judges' scorecards and was all set to lose his first title shot until Walcott came in the way of a trademark Marciano right. The reigning champion slumped to the canvas, and just like that, the fight was over.


Lawrie in 1999 British Open

Prior to the final round of the 1999 British Open, golfer Paul Lawrie was a massive 10 shots behind. The leader, Van de Velde, simply had to score a six on the 18th hole to secure the win. But De Velde choked away his three-shot lead with a triple-bogey, paving way for Lawrie to complete a 10-stroke comeback — the largest final-round turnaround in PGA history.


Silva versus Sonnen I

A few seconds into their 2010 fight at UFC 117, it was clear that challenger Chael Sonnen had more than just a loud mouth. He would repeatedly take the champion to the ground and pound him at will. As the fight entered the fifth round, Anderson's face was a mess and he was about to lose his first fight in five years. But with less than two minutes remaining in the 25-minute fight, Anderson was able to lock Sonnen into an armbar. The fear of getting his limb snapped forced Sonnen to tap out, and the champion lived to fight another day, albeit by the skin of his teeth.


West Indies steal World T20 title from England's clutches

Button at the 2011 Canadian Grand Prix

At the 2011 Canadian Grand Prix, McLaren's Jenson Button pitted six times, served a penalty, suffered multiple collisions as well as a punctured tyre, and was dead last for large parts of the race. Despite all this drama, the Brit somehow recovered to force leader Sebastian Vettel into a mistake in the very last lap to win a race that he had no right to.


Published in The Express Tribune, April 6th, 2016.

Like Sports on Facebook, follow @ETribuneSports on Twitter to stay informed and join in the conversation.
COMMENTS (1)
Comments are moderated and generally will be posted if they are on-topic and not abusive.
For more information, please see our Comments FAQ