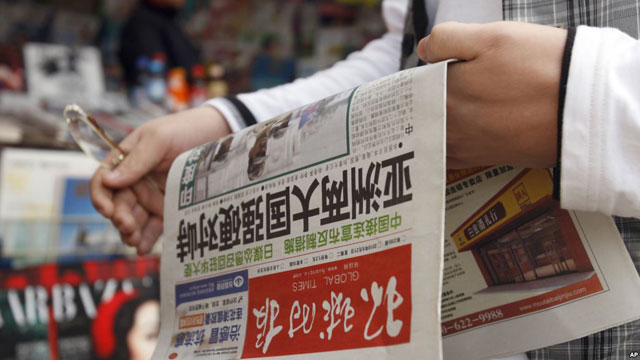 ---
BEIJING: For many aspiring Chinese, living in a chateau would be a dream come true. But bourgeois apartments with foreign names are the latest victims of a wide-ranging crackdown on "Western values" by Communist authorities.

A state-run newspaper lashed out Tuesday at the widespread adoption of foreign names in China.

Top Chinese leaders deplore Lahore bombing

Many traditional local place names, such as those for streets, fell out of favour after Mao Zedong's Communists won China's civil war. They were replaced with identities more reflective of the new government's political leanings, such as "People's Road".

Even so, they have largely shied away from the personal aggrandisement of a Stalingrad or a Ho Chi Minh City.

More recently, as the economy has boomed, many developers have put foreign names on their new buildings even though the government banned the practice in 1996.

"Almost all Chinese cities have named at least one newly built residential complex after Rome or Venice," a commentary in the government-published China Daily newspaper lamented.

A compound on the outskirts of Beijing where villas cost at least 20 million yuan ($3 million) is called Grasse Town after the French artistic centre, while condominiums in Shanghai's Golden Vienna complex sell for more than 78,000 yuan per square metre.

The commercial hub also boasts a "Thames Town" residential development, while the capital has the Chateau Edinburgh apartments.

The China Daily commentary blamed the naming frenzy on Chinese "cultural indifference" and property developers pandering to consumer perceptions that Western countries are more modern.

"After more than three decades of rapid economic development, China has become a big global power which doesn't have to copy Western traits and lifestyles to be called a modern society," wrote Wang Yiqing.

China to provide Rs410m for Gwadar port feasibility study

"Chinese people should establish a new concept of modernisation based on a well-off society with Chinese characteristics, rather than simply copying from the West," Wang said.

Civil affairs minister Li Liguo said last month that authorities would "eradicate" such "over-the-top, West-worshipping, weird and duplicative" names from all locations and replace them with names that "better reflect China's culture, history and traditions".

The changes would be put in place by June next year, the China Daily reported.
COMMENTS
Comments are moderated and generally will be posted if they are on-topic and not abusive.
For more information, please see our Comments FAQ