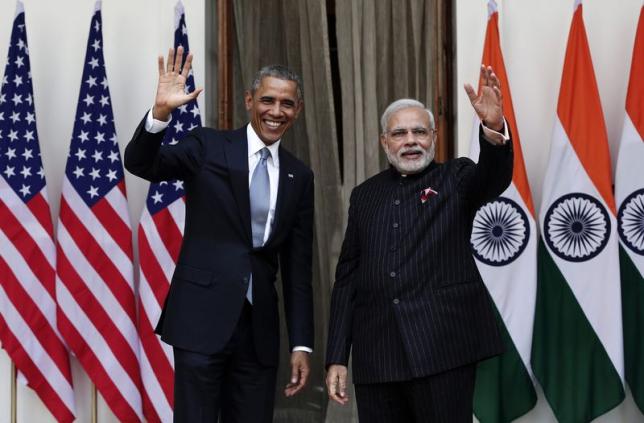 ---
The Obama administration is working on a legislation which will "institutionalise" the defence technology and trade initiative framework between India and the United States, The Hindu reported.

"The US-India Defence Technology and Partnership Act, which was introduced in the US Congress a couple of weeks back, would institutionalise the Defence Technology and Trade Initiative (DTTI) framework between the two countries and the India-specific cell in the Pentagon," Duncan M Lang, who heads the India Rapid Reaction Cell (IRRC) in the Pentagon told The Hindu in an exclusive interview in Washington.

Obama urges Pakistan, India to scale down nuclear threat

The resolution, which was introduced by Congressman George Holding, intends to amend the US Arms Export Control Action in order to formalise New Delhi's status for the purpose of congressional notifications as a major partner of equal status as America's treaty allies and closest partners.

The US-India Business Council (USIBC) had played a major role in pushing the resolution forward. "It will institutionalise what we are doing with DTTI and the India Rapid Reaction Cell (IRRC). In fact, IRRC is specifically mentioned in this Act," the Pentagon official said.

Regarding the IRRC, which was setup back in January last year, Lang explained that the cell being the initiative of one Secretary the Act would make it a permanent process. "We are going to be changing governments soon. So whatever happens, the progress we made here should go on."

Modi, Obama now on a hotline

Speaking on the progress of the projects under DTTI, the defence official said a project agreement had been signed in August last year for two of the four pathfinder projects — mobile electric hybrid power sources and uniform integrated protection ensemble (Nuclear, Biological and Chemical protection suits for soldiers).

"They are very typical type of research projects… They are in the execution phase, they are examining the options. What will come out of it is not clear. That is what they are trying to figure out — the solutions for the problem they have."

Nuclear Security Summit: Obama invites Nawaz, Modi to Washington moot

To further advance cooperation under the DTTI, both sides have compiled a list of 17 projects which is now in the process of being narrowed down and finalised.

This article originally appeared on The Hindu.
COMMENTS (1)
Comments are moderated and generally will be posted if they are on-topic and not abusive.
For more information, please see our Comments FAQ