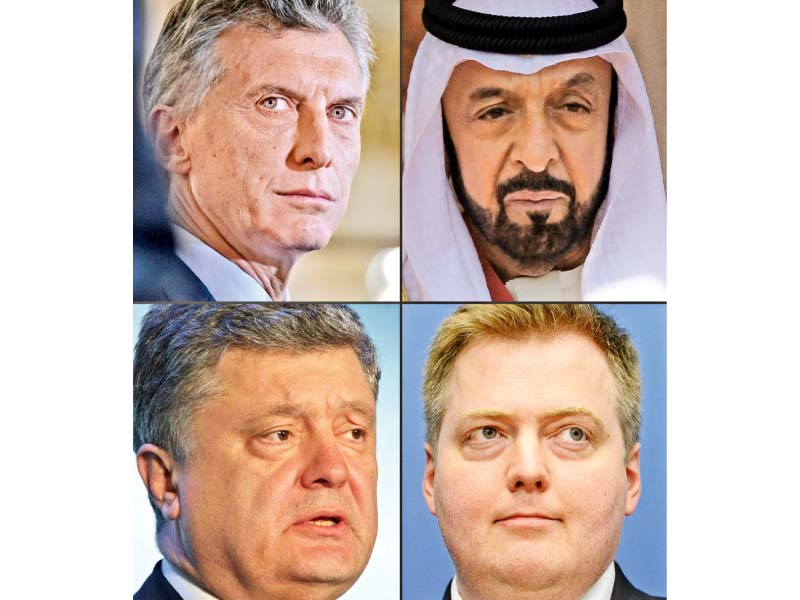 ---
PARIS/ LONDON/ MOSCOW/ NEW DELHI/ WASHINTON:



Governments across the world have mounted sweeping probes into allegations made as part of a massive leak of front companies being set up by a Panama-based firm on behalf of several prominent global personalities and leaders, many of whom denied any wrongdoing.




The leak, dubbed 'Panama Papers' and comprising some 11.5 million documents covering four decades from the Panama-based law firm Mossack Fonseca, shows how some of the world's most powerful people have taken their money offshore.

While holding money in offshore companies is not illegal, journalists who received the leaked documents said they could provide evidence of funds hidden for tax evasion, money laundering, sanctions busting, drug deals or other crimes.

Several world leaders, including Prime Minister Nawaz Sharif and his family, Iceland's prime minister, Argentina's president, Ukraine's president, friends of Russian President Vladmir Putin, father of British Prime Minister David Cameron, family of Chinese President Xi Jinping, among others. Many celebrities, including footballer Lionel Messi, Indian actors Amitabh Bachchan and Aishwariya Rai and Chinese actor Jackie Chan were also named.

Mossack Fonseca, which says it has set up more than 240,000 offshore companies for clients around the globe, denied any wrongdoing and called itself the victim of a campaign against privacy.

Countries including France, Spain, Australia, said they had opened legal probes into the documents while India, Sweden, Netherlands have said they will investigate the matter.

French financial prosecutors said on Monday they were opening a preliminary investigation for aggravated tax fraud over the leak. France's finance ministry said earlier on Monday that the French government will seek access to the documents behind the "Panama Papers" revelations about potential offshore tax evasion and will punish tax evaders. US Justice Department said it was reviewing the leaked documents. The White House had earlier said it could not specifically comment on the "Panama Papers" but pointed to the Justice Department, along with the U.S. Treasury Department, as generally continuing to focus on financial corruption.

Sweden's Financial Supervisory Authority (FSA) has contacted authorities in Luxembourg for information related to allegations that Nordea , the Nordic region's biggest bank, helped some clients set up accounts in offshore tax havens.

Austrian regulators are investigating whether two banks named in an international data leak followed procedures to prevent money laundering, one of the firms having attracted attention for its lending to a confectionery company owned by Ukraine's president.

Dutch authorities will investigate allegations related to the Netherlands. Indian government has declared that action will be taken against "unlawful" accounts held abroad by Indians and constituted a multi-agency group to continuously monitor information relating to film actors and industrialists who have allegedly stashed money in offshore entities.

Denials

Several leaders, personalities and institutions named have rejected allegations of wrongdoing.

A spokesperson for Russian President Putin dismissed reports as "disinformation" adding that the reports contained "nothing concrete and nothing new".

A spokesperson for British Prime Minister David Cameron said that company of his late father, Ian Cameron, was a "private matter".

Iceland's Prime Minister Sigmundur Gunnlaugsson has refused to resign after protests sparked in the small country  following revelations.

Published in The Express Tribune, April 5th, 2016.
COMMENTS (1)
Comments are moderated and generally will be posted if they are on-topic and not abusive.
For more information, please see our Comments FAQ