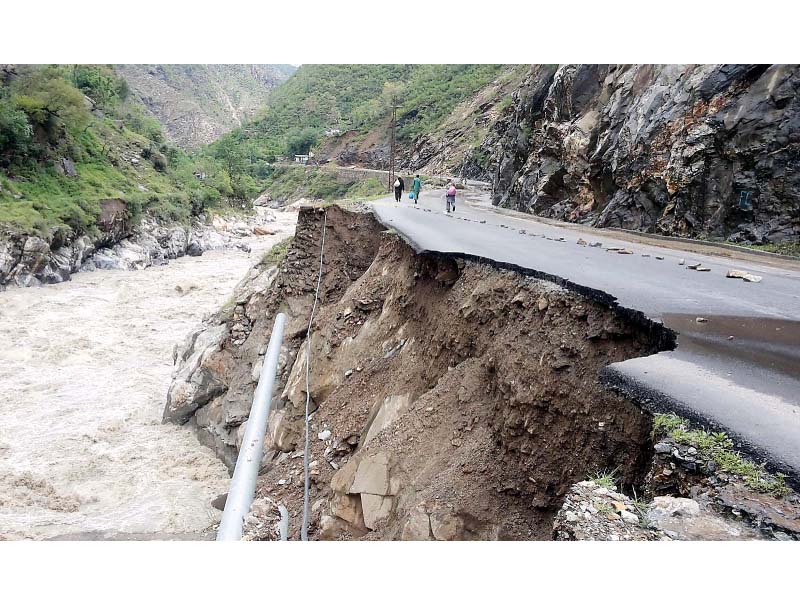 ---
DIR/ KOHISTAN:



Another 32 people died on Monday as heavy rain continued to batter northern Pakistan for a second consecutive day, taking the two-day death toll from the unusual downpour to 95.




At least 25 people – mostly women and children – were feared dead when a massive landslide triggered by incessant rain slammed into Othar Nala village, in Kandiya tehsil of Kohistan district, burying several houses under tons of mud and huge boulders.

According to the region's top administrator, two bodies were retrieved while five people were pulled out alive from the rubble. They were treated on the spot because they could not be driven to hospital as most roads were blocked by landslides.  Residents were digging the mud with bare hands as heavy machinery could not be moved to the area due to clogged roads.

"We have received reports of 23 to 25 deaths in Othar Nala, but I'll be able to confirm the death toll after rescuers reach the spot," DPO Ali Rehmat Khan told The Express Tribune. Kandiya tehsil is 48 kilometres away from the district headquarters Dasu. And Khan said the affected mountainous village is five-hour trek away.

A local lawmaker said rescue teams could not reach the village till Monday night. "All roads are blocked. I've informed the Prime Minister House," MNA Sarzameen told The Express Tribune. He feared all 23 to 25 trapped under the rubble might have died. District Commissioner Raja Fazal-e Khaliq said the landslide was caused by lightning. "We have requested the army and the National Disaster Management Authority (NDMA) to fly troops in helicopters to Kohistan to unblock the roads and ferry the injured," he added. He, however, wasn't sure it would be possible in the inclement weather.

Both Khaliq and Khan confirmed the strategic Karakoram Highway (KKH) was blocked at a dozen points.

According to the Frontier Works Organisation (FWO), the KKH has been damaged by landslides at more than six points between Diamer district and Kohistan. We have moved machinery to the site and hopefully, it will be opened for traffic soon," said Colonel Amjad of the FWO.

A police source feared the death toll could soar past 35. More than 13 villagers were killed in rain-related incidents in Kohistan on Sunday. Two persons were killed in neighbouring Battagram and one in Mansehra district – mainly in roof collapse incidents.

Upper Dir district

At least two women died and as many received injuries when a vehicle fell into the River Panjkora at Tormang, in Upper Dir district, late Sunday evening. One body was fished out by local divers, while efforts were ongoing to recover the second body.

The victims are said to be mother- and sister-in-law of Saeed Shah Khan, a tehsil councillor associated with the Pakistan Tehreek-e-Insaf.

Gilgit-Baltistan

It stooped raining in G-B on Monday, but rain-related casualties continued to multiply. The roof of a house collapsed in Chilas town of Diamer district, killing one woman and two children present inside. At least 12 people were killed in rain-related incidents on Sunday in G-B where government declared emergency.

Major roads connecting Gilgit with the rest of the county remained blocked across the region which saw some of the worst rainfall this year.

AJK drowning

Two girls drowned in a gushing stream in the Rashyan area of Hattian Bala district, some 50 kilometres away from Muzaffarabad, the capital of Azad Jammu and Kashmir, police said.

Nayab, 8, and Mayil, 10, were swept away by a strong current in the swollen stream near Parsa village. The girls were returning home after grazing their herd of goats and sheep in a forest near the village. Local divers fished out the bodies.

Stranded foreigners

At least 28 foreigners stranded in drenched Kohistan were evacuated to safety on Monday. The foreigners – all Korean and Japanese nationals – were stranded near Dasu while travelling to Islamabad from Gilgit, police sources told The Express Tribune.

DPO Ali Rehmat Khan said the 28 foreigners were travelling in two coasters and as many cars on the KKH when a massive landslide blocked the highway. "They were stranded in the region until police safely evacuated them to a hotel and government buildings where they will stay until the highway is reopened," he added. (With additional reporting by Shabbir Mir in Gilgit, Aslam Mir in Muzaffarabad and our correspondent in

Published in The Express Tribune, April 5th, 2016.
COMMENTS
Comments are moderated and generally will be posted if they are on-topic and not abusive.
For more information, please see our Comments FAQ