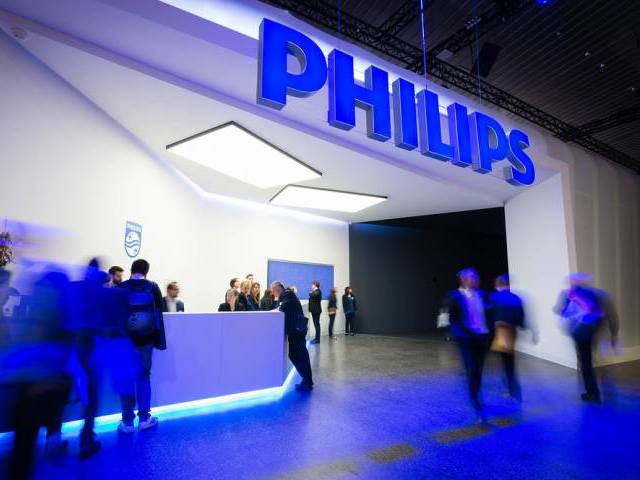 ---
FRANKFURT: Philips Lighting, a subsidiary of Dutch technology giant Royal Philips, announced new partnerships and displayed a number of its latest products earlier this month at one of the lighting industry's key trade shows 'Light + Building' in Frankfurt.

While the company focused on LED and other technological innovations in previous Light + Building events, this one, at least for Philips, was an extension and covered connectivity and the Internet of Things (IoT).

"It's still about LED lighting, it's still about connected lighting, but we are extending our leadership in the Internet of Things to deliver unique benefits to our customers," Philips Lighting CEO Eric Rondolat said at a press conference held on March 14. "It's about enhanced quality of light, it's about greater energy savings, but it's also about unlocking new value from Internet of Things apps and services."

In the past ten years, Rondolat went on, the lighting industry has changed more than it did in the past century. By 2030, he estimated, there will be 70% more light points than today. "We need more energy efficient light; there is a climate change equation that we are participating with."

"We are only scratching the surface when it comes to what can be done when we connect light the way we have described today," he said. "We see ourselves as the lighting company for the internet of things."

Professional lighting

Speaking about the road and street segment of the professional lighting market, Philips Lighting Professional Division CEO Dominiek Plancke said that roughly 10% of all the light points today were equipped with LED, but only two percent of them were connected.

"So how can we accelerate connectivity? We developed CityTouch connector node which we applied for the first time on 110,000 luminaires in the city of LA."

Plancke announced Philips Lighting's global partnership with British telecom giant Vodafone, under which the two companies will enable cities around the world to implement connected street lighting wirelessly, and the company's first ever connected lighting indoor positioning implementation in the Middle East, a partnership with UAE-based retailer Aswaaq.

Under the partnership, Philips Lighting, in partnership with US-based shopper analytics firm Aisle411, will help the retailer boost sales by providing a connected lighting indoor positioning system.

Developing countries

The advantage of these technologies for countries like Pakistan is that they can start small and then scale, Philips Lighting's Global Lighting Systems SVP Jeff Cassis said on the sidelines of the Light + Building trade show speaking to journalists.

"Some of the developing countries actually are some of the more progressive," Cassis said. "They have less infrastructure and less challenges, and they make decisions very quickly, which I think is very important."

Cassis added that solar energy was another application that was quite impressive in developing countries. "I think developing markets are an excellent place to start."

Home business

Philips Lighting Home division CEO Chris Worp announced new partnerships for the company's Hue home lighting system with a Dutch telecom company, and French insurance and energy companies in a bid to drive the adoption of the IoT for homes. The division that represents 25% of the company's business.

Published in The Express Tribune, April 5th, 2016.

Like Business on Facebook, follow @TribuneBiz on Twitter to stay informed and join in the conversation.
COMMENTS
Comments are moderated and generally will be posted if they are on-topic and not abusive.
For more information, please see our Comments FAQ