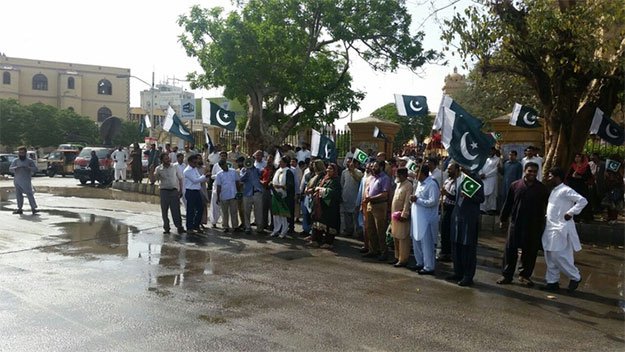 ---
KARACHI: At a time when a group of religious workers had blocked Numaish Chowrangi to show support for their counterparts holding the country's capital hostage, a group of teachers from Sindh also took to the streets in favour of their demands. The only difference between the two was that the former were allowed to hold their protest while the later were charged with water cannons and batons.

On March 30, the group of teachers led by Sindh Professors and Lecturers Association (SPLA) were manhandled by the law enforcers, resulting in injuries to seven teachers and the arrest of several others. Unlike the Numaish protesters whose myriad demands included execution of a blasphemy accused, the four demands put forward by SPLA were fairly non-violent.

The teachers demanded implementation of a four-tier formula for promotions, reflection of posts in budget books, promotion of lecturers, assistant and associate professors and upgradation of posts in colleges done in the same manner as colleges that come under the federal system.

Four-tier formula

One of the demands put forward by SPLA is revising the four-tier division of teachers' posts when hiring for provincial colleges. The sanctioned number of teachers for Sindh colleges is 10,200 whose promotion, until 1989, was carried out keeping in mind the three tiers of professors, assistant professors and lecturers. In 1989, all provinces revised the three tiers to four, with an additional post for associate professors. Based on this, each college was to have 1% of its teaching staff as professors, 15% associate professors, 34% assistant professors and 50% lecturers.

Later, Punjab and Khyber-Pakhtunkhwa (K-P) revised this division. In Punjab colleges, professors comprised 3% of the staff, associate professors were 19%, assistant professors were 38% while lecturers were cut down to 40%. In K-P, professors were increased to 5%, associate professors to 20%, assistant professors to 37% while lecturers were reduced to 38%.

Sindh education department has yet to revise this division, said SPLA Karachi division head Ferozuddin Ahmed Siddiqui. "In Sindh, the ratio of professors and lecturers is the same as it was 27 years ago," he pointed out.

Promotions of grades 18, 19 and 20

The second demand put forward by SPLA is promotions of college teachers as all the lecturers who have been appointed since the year 2000 and have been working at the same grade for the last 16 years.

The promotions of lecturers in grade 17, who have to be promoted to grade 18, is carried out by the departmental promotional committee, headed by the education secretary and with representatives of the finance department, additional education secretary, colleges director-general and all regional directors as members.

For promotions to higher grades, two different boards work at the education department. For promotions from grade 18 to 19, the education department's board one handles them while the promotion cases from grade 19 to grade 20 are handled by board two. Both boards are headed by the Sindh chief minister along with the chief secretary.

Upgrade colleges

The third demand put forward by SPLA is to upgrade colleges the same way as done by the federal government, which allows lecturers of grade 18 to join colleges, while the criterion for Sindh colleges in still grade 17. "A college lecturer should also be upgraded to a grade-18 employee," said Siddiqui.

However, education secretary Fazlullah Pechuho claimed that he will get rid of any upgrade formula that is in place. He promised to bring a new formula to upgrade colleges.

Reflections of posts in budget books

The last demand put forward by SPLA is to have their posts mentioned in the budget books. The number and job title of a teacher working in a certain college needs to be mentioned in the budget books as it can affect the number of employees sanctioned for that college, explained Siddiqui.

The last three times that teachers were promoted and their posts were upgrades was in 1994, 1998 and 2004. "We were informed through notifications and revised appointment letters but our posts were not mentioned in the budget books," he said, adding that this omission hides how many professors and lecturers are appointed in any college.

Committee formed

After the violent dispersal of protesters last week, the Sindh government formed a committee to look into the teachers' demands. According to colleges director-general Nasir Ansar, the committee headed by additional education secretary Asjad Mehmood is working to resolve the teachers' demands. The finance department is also working on preparing a list of teachers' posts to be added in budget books, he told The Express Tribune, adding that a departmental promotions committee will also take up the pending cases soon.

For his part, the education secretary said that posts cannot be reflected in budget books. They will, however, add which teachers are appointed for what subjects at each college, said Pechuho. "We cannot follow the Punjab and K-P as their system is different than ours," he said.

According to Pechuho, they will not increase the number of teachers' posts in Sindh colleges if they find no need for it. "Lecturers will be hired only if we have an increase in enrolment numbers," he said.

Published in The Express Tribune, April 5th, 2016.