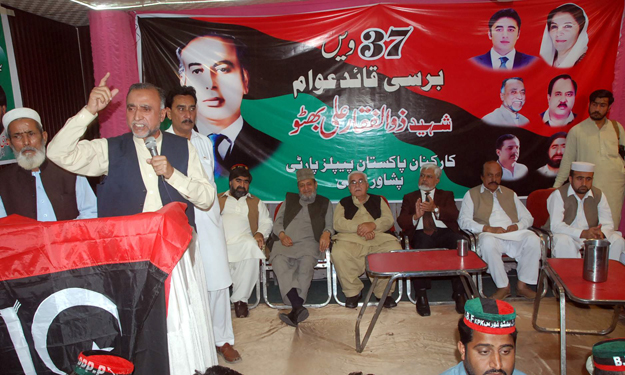 ---
PESHAWAR/ PARACHINAR: Zulfikar Ali Bhutto's 37th death anniversary was celebrated across the province on Monday.

In Peshawar, Bhutto's anniversary was observed by workers and district leadership of the party with zeal. One of the events was held at Peshawar Press Club.

Party workers and leaders did, however, express dismay over the current conditions of the party. They believed the party was in turmoil due to the lack of able leadership and disunity.

Workers paid glowing tributes to the founding chairman of PPP. They claimed if Bhutto was still alive, the country would have been in a different position.

A party no more

Expressing dissatisfaction over the current state of the party, PPP Khyber-Pakhtunkhwa organiser Misbahuddin said it was a party made for the interest of the poor but today, it had become "the party of capitalists". He was addressing the gathering at the press club.

"This party was not destroyed by martial law administrators or opposition parties, but by its own leadership," said Misbahuddin. There was no supervision of workers from the top, he added.  "Today, we don't even discuss the issues that are needed to be discussed to pull the party out of turmoil."

Party posts were being filled on the basis of one's financial position, said Israr Ahmad Khan, president of PPP's Peshawar chapter. "Workers are a source of strength; they should be given a chance to revive their party."

In Parachinar, leaders and workers paid homage to the sacrifices of Bhutto. Hamid Turi, Dr Sayed Husain Jan, Iftikhar Hussain, Moin Ali and other leaders addressed the gathering.

Published in The Express Tribune, April 5th, 2016.