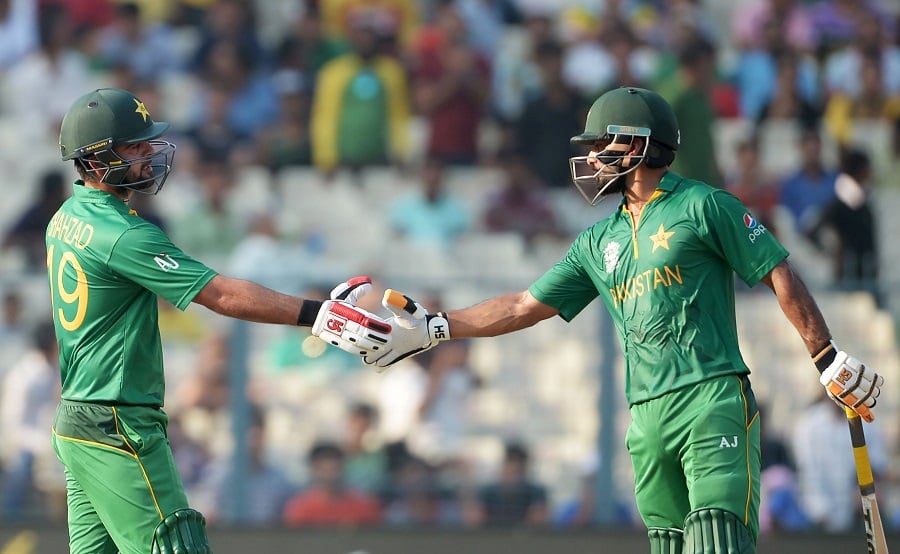 ---
The transformation was almost complete. One over, one measly over was all that remained. England, from chumps in 2015 to champions in 2016. An entire nation dreamed. 19 needed off the final six. Carlos Braithwaite, primarily a bowler by trade, on strike. Premium all-rounder Ben Stokes with the ball.

No one saw this coming. Not the most optimistic, nor the most pessimistic. Not the clueless, nor the clairvoyant. Four deliveries later, four sixes later, Stokes was on his knees trying to hold back the tears that betrayed the 'tough man' image he had carefully built up in his four years of international cricket. Four balls of madness is all it takes to break even the strongest amongst us.

Shahid Afridi steps down from T20 captaincy

Towering above him stood Braithwaite, a colossus both in stature and deed, soaking in the adulation of Calcutta. He had played just two T20Is before this World T20, once in 2011 and again in 2015. He had made a grand total of two runs in T20Is before this World T20.

This, undoubtedly, was his crescendo. Braithwaite will never do this again, he cannot do this again. But he doesn't need to do this again — his name is already carved in folklore stone.

In all fairness, Sri Lanka should have warned England of what Marlon Samuels does in finals. Samuels' career-best unbeaten 85 was the highest score in a World T20 final. The score he bettered was his own unbeaten 78 against Sri Lanka four years ago.

Problem found?: Committee suggests sacking Waqar

But that almost never happened. The ball almost carried to Jos Buttler off a bottom edge. Samuels walked off, only to be called back again. And in his second life he took West Indies to their second World T20 crown, just like he had taken them to their first in 2012.

The Calypsos fought through the odds, they fought against their own board, they fought against the critics, they fought against those who wrote them off, they fought against those who questioned the method in their madness. They fought and they fought. 15 men against the world.

They were the clowns everyone laughed at, everyone sneered at. Few took them seriously, few gave them a snowball's chance in hell. They were the clowns who had the last laugh. Champions of the world. They will enjoy every single second of it, and they have deserved all of it.

Anam Amin included in ICC's WT20 dream team

It was a stirring speech from Darren Sammy after the game. There was a tear in his eyes and a lump in his throat as he opened up about the problems they faced along the way, but boy was there a proud smile on his face when he said it all.

It was inspirational stuff from West Indies, right from the Gayle century in the opening match to the four sixes from Braithwaite. It was easy to get washed away with the Windies tide, easy to find yourself rooting for them.

This is what fans of Pakistan want to see from their team too; the defiance, the swagger, the cockiness, the sheer will to win, the channelling of the anger, the answering of the injustices.

All of that once defined Pakistan cricket too. Now we are caught in the crosswinds, unsure of where we stand, treading water as others sail past us.

Can we do that again? Can we bring back the past, can we be this fearless once more, can we relive the lost tales?

A huge part for this fear is the uncertainty that surrounds Pakistan cricket. The constant chopping and changing hasn't helped, neither has the rating-hungry media of the country — immature even beyond Umar Akmal's wildest dreams.

But if we want to experience what Braithwaite did as he turned Eden Gardens into his own personal heaven, we must be willing to go through the nightmare of Stokes. We, as a nation, must be willing to give our players the licence to fail. To be smashed for four consecutive sixes and for the captain to come out and say with steel in his tone 'we enjoy our wins together and we suffer our losses together', when asked about Stokes.

These two teams were here not because they were the most talented or the most gifted. They were here because they were the most fearless, because they wanted this the most but were still willing to risk it all, because they went all in and left nothing back, because they looked into the dark abyss of failure and jumped in with a smile on their faces.

If Pakistan are to recapture the glory of bygone days, if they too want to be a team transformed like these two finalists, then they must do the same. They must take the leap of faith, not as a group of players or as a team but as a nation. They must do so or risk being left behind. They must let the players play without fear, and let destiny decide whether they make Stokes or Braithwaites out of themselves.
COMMENTS (11)
Comments are moderated and generally will be posted if they are on-topic and not abusive.
For more information, please see our Comments FAQ