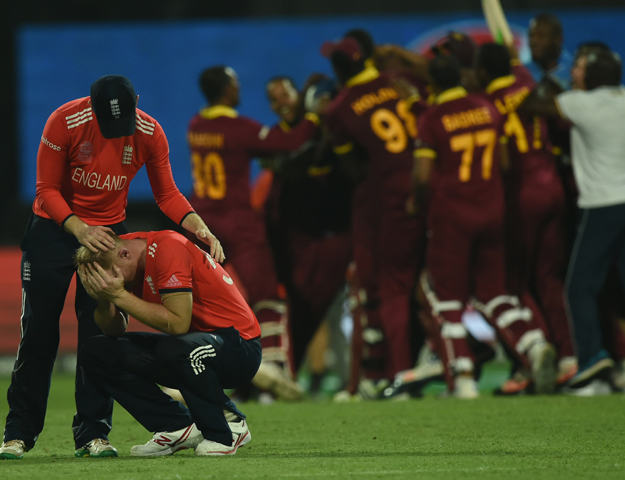 ---
With nineteen runs off six balls needed, odds were heavily stacked in favour of a bowler who had carved out a reputation as one of the most potent death bowlers in the tournament.

His yorkers, slower ones and bouncers had flummoxed semi-finalists New Zealand to such an extent that they could score only six runs off the bat from his last two overs with only one run coming off the last six balls including two wickets.

West Indies steal World T20 title from England's clutches




With a place in the World T20 final, Ben Stokes was living his dream. Six more balls with anything less than 18 runs off his bowling and he would have enacted his childhood dream; a few hours earlier he had even tweeted what it meant to him.

https://www.instagram.com/p/BDvF-XTKSQv/

As Stokes prepared to bowl, he carried an aura of a man in control. His body language oozed confidence; he almost had a smirk on his face – belief personified. Marlon Samuels, the main threat was at the non-striker's end and the batsman on strike — Carlos Brathwaite — was at best a capable basher of the ball a more hit-and-miss kind that occupies the lower numbers in a batting order.

Windies strike twice to lift two World T20 trophies

Stokes had almost bullied the opposition. He had sledged Samuels and even mimicked Dwayne Bravo's champion dance after pocketing each of his four catches.

Between all this, fate was plotting a cruel blow against Stokes, a really brutal one.

First ball was a half-volley on the legs. The 'potent' yorker missed by a mile and Brathwaite nonchalantly sent it soaring over the fine-leg boundary.




Stokes shrugged his shoulders, six scored, but still 13 off 5 in a WorldT20 final; odds still in the bowler's favour.

Stokes wanted to make up for the bad delivery and rushed into bowl the second ball. Once again he missed the yorker by perhaps half-a-mile. Brathwaite was ready and connected with a golf swing that Tiger Woods would be proud of and the ball landed 94 meters away deep into the grand Eden Gardens stand.

West Indies board slam Sammy's 'inappropriate' remarks




Eden Gardens was now heaving with applause; Stokes was now lonely, very lonely. His teammates were egging him on but their screams were drowning in the Kolkata cauldron. With seven needed off four balls now, Stokes' dream was falling apart and fast. It was still not impossible; earlier in the tournament Bangladesh had fluffed a chase needing just two off three.

World T20 final: how Twitter saw it


The bravery is putting the ball in your hands to bowl the last over @benstokes38 ... #Respect

— Michael Vaughan (@MichaelVaughan) April 3, 2016


Stokes still had seven to play with. All he needed was to jam that yorker at the base of Brathwaite's swinging bat. By now he was sweating buckets, running his fingers through his largely coarse scalp. He ran in again, Brathwaite cleared his left leg and swung once again. For starters it looked like a miscue, the long-off fielder positioned himself under it, but it turned out just like the Shahid Afridi six of Ravichandran Ashwin in the Asia Cup. A few seconds that must have seemed like an eternity to Stokes, Brathwaite and a billion viewers around the world but the ball dropped towards the left of the grand stand.

Darren Sammy thanks Pakistani fans in Pashto

Stokes was now on his haunches. Perhaps for the first time ever in the history of international cricket a bowler had broken down in the middle of an over.




https://twitter.com/KP24/status/716686668930088960

Saeed Ajmal, VanBunge, Stuart Broad, Yuvraj Singh and a host of others had been in Stokes' shoes but not sure if anyone of them had tears running down the cheeks as they turned to their bowling mark in the middle of their respective dismantling spells.

Stokes' agony seemed never ending as Brathwaite pumped his fist and Samuels hurled a volley of abuses at the distraught Durham all-rounder. He was now copping what he had earlier delivered. As the nightmare turned scarier than the Hollywood flick Texas Chainsaw Massacre, Stokes was quite simply crestfallen.




With one needed off three, Stokes and each iota of machismo in him had been defeated. He ran in like a wounded soldier with arms raised surrendering to his fate and Brathwaite stung him again. The fourth six off the over, another magnificent swing of the bat, sent the ball deep into the stands.

The young boy in that Instagram picture who can be seen practicing a big booming drive, the likes of which Stokes has built his reputation on, would never have imagined what April 3, 2016 had in store for him.




Stokes still has years of cricket left in him, he can still go on to win a world title for his country, he might still get to live his dream one day but rest assured the Kolkata nightmare will take some genuine healing.

Go well buddy!