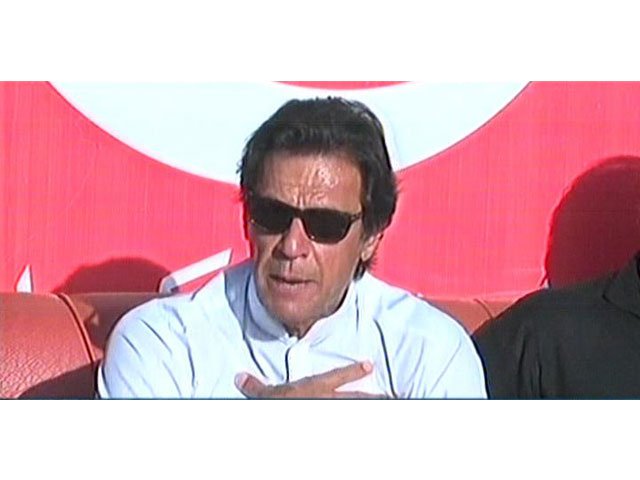 ---
Pakistan Tehreek-e-Insaf (PTI) chairman Imran Khan demanded on Monday the National Accountability Bureau (NAB) to immediately launch an investigation into the recent revelations about Prime Minister Nawaz Sharif and his family's alleged offshore wealth.

"If NAB wants to save its face in the country it should unveil the corruption of these people," Imran said while addressing a press conference at his Bani Gala residence in Islamabad.


NAB needs to do is look for the money trail of Sharif family assets; how did their money reach outside the country @ImranKhanPTI

— PTI (@PTIofficial) April 4, 2016


"If it is unable to act against the powerful elite then there is no reason for this institution to exist."


If NAB does not have the mettle to investigate and implicate these big criminals, then it should shut down #PanamaPapers @ImranKhanPTI

— PTI (@PTIofficial) April 4, 2016


Panama Papers: Huge tax leak exposes Putin aides, world leaders, stars

The PTI chief said the revelations through Panama papers were not a conspiracy against Pakistan but the tax evaders were exposed by God.


People shouldn't mistake it for some conspiracy #IKPressCon #panamapapers

— PTI (@PTIofficial) April 4, 2016


"I have been raising my voice for the last 20 years on this issue and I still say this is just one firm which has been revealed in the papers. I am sure there are many more," said Imran.


Our stance vindicated again as Sharif's wealth stashed abroad exposed. NAB, FBR & ECP must take action. https://t.co/0KatYNz2U8

— Imran Khan (@ImranKhanPTI) April 4, 2016


The cricketer-turned-politician termed it a defining moment for the country and urged the people to ask those, who take their money out of the country, how could they invite foreigners to invest in Pakistan.

"If Australia, Hong Kong, New Zealand and France can start investigation into it then why can't we?" he asked.

Nawaz's son owns London apartment, offshore companies


After The Guardian revelations Iceland's prime minister resigning & snap elections in the offing. The ECP must move on this.

— Imran Khan (@ImranKhanPTI) April 4, 2016


The PTI chief questioned the heavy investment of Sharif family in foreign properties, saying "who lent billions to Sharif's to setup their businesses abroad?"

"Just when Hussain Nawaz realised their secret companies were about to be surfaced, he appeared on a TV show and owned all these companies," he upheld.


Hussain Nawaz preempts the leak & suddenly decides 2 "declare" his assets on media;bestowed on him by good luck #PanamaPapers @ImranKhanPTI

— PTI (@PTIofficial) April 4, 2016


Imran said the Sharif family was unable to explain how they shifted such huge funds out of the country.

'No off-shore companies'

Pervez Rashid said Panama Papers have re-confirmed that the prime minister does not have any assets abroad or off-shore companies, according to Radio Pakistan.

"I challenge PTI chairman Imran Khan to prove in a UK court any illegality in the businesses owned by sons of the prime minister," information minister said while addressing a news conference in Islamabad.

Rashid asked Imran to explain the sources of his assets abroad and purchase of property in Bani Gala, Islamabad.
COMMENTS (13)
Comments are moderated and generally will be posted if they are on-topic and not abusive.
For more information, please see our Comments FAQ