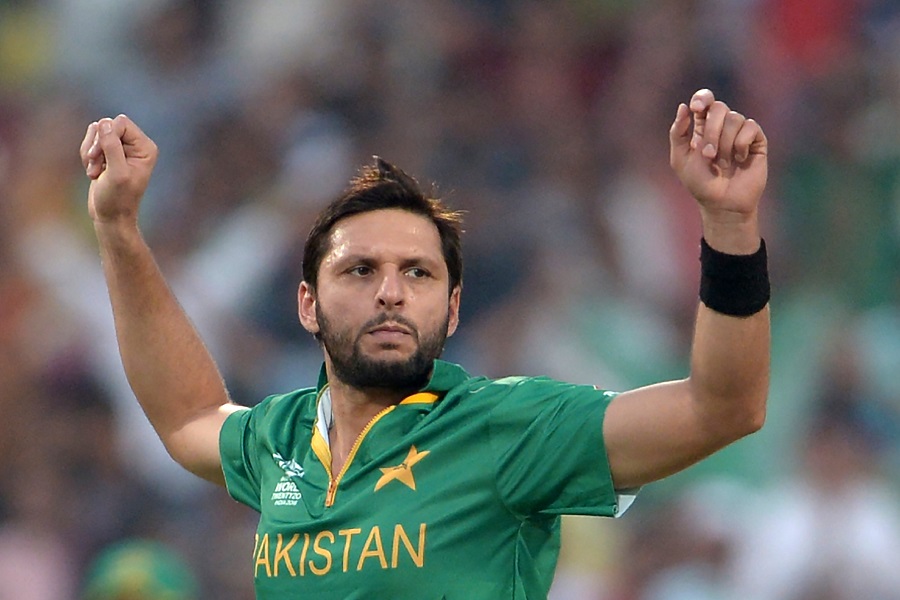 ---
Pakistan T20 captain Shahid Afridi announced in a press release on Sunday that he is relinquishing the captaincy of the Pakistan T20 team with immediate affect.

"Today I wish to inform my fans in Pakistan and all over the world that I am relinquishing the captaincy of the T20 Pakistani team of my own volition," he said.

I'm being blamed for Pakistan's defeat against India, says bemused Imran


April 3, 2016
Just in: Shahid Afridi steps down as Pakistan's T20 captain, says he wants to continue playing for the country https://t.co/hwoTrbGnQk

— ESPNcricinfo (@ESPNcricinfo) April 3, 2016


However, the player who represented Pakistan in 27 Tests, 398 ODIs and 98 T20Is, vows to carry on playing for the country as a player.

"I would also like to inform that InshAllah I intend to continue to play the game for my country," he said further, adding that, "For me it was a great honour to lead my country in all three formats of the game.

Concluding the announcement, Afridi thanked the nation for its support.


Thank u Pakistan

— Shahid Afridi (@SAfridiOfficial) April 3, 2016


The 36-year-old faced severm's dise criticism after the teamal show in the recently concluded Asia Cup and ICC World T20, where the Men in Green managed to win only three out eight matches.

Pakistan can't win World Cups under current system: Wasim Akram

Head coach Waqar Younis and team manager Intikhab Alam also crticised Afridi for his leadership skill in their post tournament reports.

Waqar in his report criticises T20I captain's specific decisions during Pakistan's loss to India, New Zealand and Australia. Moreover, the 44-year-old recommended that drastic measures need to be taken for the betterment of Pakistan cricket.

Rebuilding Pakistan cricket — a pipe dream?

Pakistan team was able to bag only win in their World T20 campaign and that too against Bangladesh.

On the other hand, team manager Intikhab Alam, in his report submitted to the Pakistan Cricket Board's (PCB) Fact-Finding committee, has claimed Shahid Afridi is an 'absolutely clueless' captain.

Twitter was abuzz when news broke of his decision.

Shahid Afridi steps down as captain and retired his thought of retiring from the team.......... yet again!

— Keh Ke Peheno (@coolfunnytshirt) April 3, 2016
Shahid Afridi drops retirement plan, steps down as captain https://t.co/ZlFWG6cZHc pic.twitter.com/8D2YqUmwLA

— Syed Sujjad Pasha (@ImSujjad) April 3, 2016

https://twitter.com/asad_abro/status/716576708816674816
https://twitter.com/alanwilkins22/status/716572262254641152

Shahid Afridi formally steps down as Pakistan's T20 captain, will continue to play Cricket and available for team as player. #Cricket #Pak

— Faizan Lakhani (@faizanlakhani) April 3, 2016
COMMENTS (8)
Comments are moderated and generally will be posted if they are on-topic and not abusive.
For more information, please see our Comments FAQ