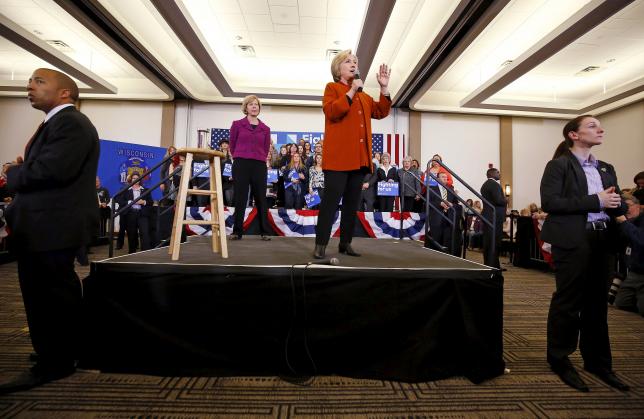 ---
Democratic presidential candidates Hillary Clinton and Bernie Sanders are tussling in Wisconsin over who would best represent the Democratic Party against Republican front-runner Donald Trump.

The competition was in full force on Saturday night at the Wisconsin Democratic Party's "Founders Day Gala," a chance for both Cliinton and Sanders to make their closing arguments before the state's primary vote on Tuesday.

Donald Trump cancels appearance at conservative conference

Clinton, as the Democratic front-runner, is more and more taking aim at both Trump and US Senator Ted Cruz of Texas, the top Trump rival who is leading Wisconsin polls of Republican voters.

Trump, in response to the threat of Islamic militants, has proposed a temporary ban on Muslims entering the United States and Cruz has called for police patrols of Muslim neighborhoods. Clinton said these ideas are offensive.

"That does not make Trump and Cruz sound strong," said Clinton to the crowd of 1,400. "It makes them sound in over their heads... You know loose cannons tend to misfire, and in a dangerous world that is a gamble we cannot afford."

Sanders, a US senator from Vermont who has been a surprisingly strong challenger to Clinton for the Democratic presidential nomination, told the crowd he would be a better opponent against Trump than Clinton.

Donald Trump's jet makes emergency landing in Tennessee

Sanders noted national poll numbers showing he leads Trump by a larger margin than Clinton leads the New York billionaire. Sanders said this makes him "the strongest candidate" on the Democratic side to go up against Trump.

"It's not just polling," Sanders said. "There is one campaign which has created an enormous amount of excitement and enthusiasm and that is our campaign."

For the Democratic Party to succeed in the Nov. 8 election, Sanders said, "we need a vibrancy" and energy that brings in young people who have flocked to his campaign.
COMMENTS
Comments are moderated and generally will be posted if they are on-topic and not abusive.
For more information, please see our Comments FAQ