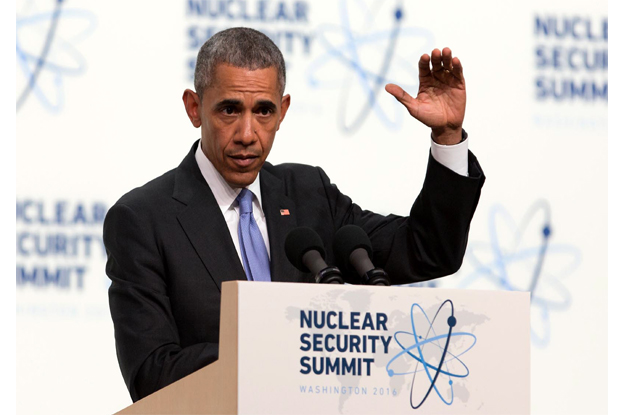 ---
WASHINGTON:



US President Barack Obama on Friday urged Pakistan and India to scale down the nuclear threat in the subcontinent.




"The other area where I think we need to see progress is Pakistan and India, that subcontinent, making sure that as they develop military doctrines, that they are not continually moving in the wrong direction," Obama told a press conference at the end of the two-day Nuclear Security Summit in Washington on Friday.

Obama says world must prevent terror madmen from getting nukes

Obama also expressed serious concerns about "nuclear arsenals" expanding in some countries, "especially those with small tactical nuclear weapons that could be at greater risk of theft," NDTV reported.

But he admitted that the challenge of convincing countries to reduce arsenals depends on two of the world's largest stockpiles showing the way.

"One of the challenges that we're going to have here is that it is very difficult to see huge reductions in our nuclear arsenal unless the United States and Russia, as the two largest possessors of nuclear weapons, are prepared to lead the way."




Pakistan committed to nuclear security

Special Assistant to the Prime Minister on Foreign Affairs Tariq Fatemi told delegates from around 50 countries during the summit that Pakistan is strongly committed to nuclear security.

"As a responsible nuclear state, Pakistan takes nuclear security very seriously and accords it the highest priority in its security construct. Our nuclear security paradigm, has evolved over the years," he stated, adding that the nuclear security regime in place is "effective, dynamic and responsive to the entire range of threats".

Noting that Pakistan is party to several international instruments relevant to nuclear safety and security, Fatemi said that Islamabad "is committed to international cooperation consistent with our national priorities."

The PM's aide also made a case for Pakistan's integration in the multilateral export control regimes given that it had strong credentials on nuclear safety, security and non-proliferation. "Our export controls are consistent with those being implemented by the Nuclear Suppliers Group (NSG), Missile Technology Control Regime (MTCR), and the Australia Group (AG)."

He added that Pakistan has been running a safe, secure and safeguarded civil nuclear programme for over 40 years.

"Pakistan has established a specially trained, highly skilled and well equipped force that is designed for nuclear security. Dedicated intelligence provides depth to our security architecture."

He called for broadening participation in the post-summit era with a focus on efforts towards promoting nuclear security through the International Atomic Energy Agency (IAEA).

"In our view, a policy of inclusiveness, rather than erecting barriers to the participation of a wider circle of responsible states would serve far better our common goal of strengthening global nuclear security."

Pakistan's nuclear arsenal could become world's third-biggest: report

Meanwhile, world leaders reaffirmed their commitment to keep nuclear weapons out of the hands of extremists but warned that the threat is "constantly evolving."

"More work remains to be done to prevent non-state actors from obtaining nuclear and other radioactive materials, which could be used for malicious purposes," the leaders said in a joint statement as the two-day summit concluded in Washington.

Published in The Express Tribune, April 3rd, 2016.
COMMENTS (5)
Comments are moderated and generally will be posted if they are on-topic and not abusive.
For more information, please see our Comments FAQ