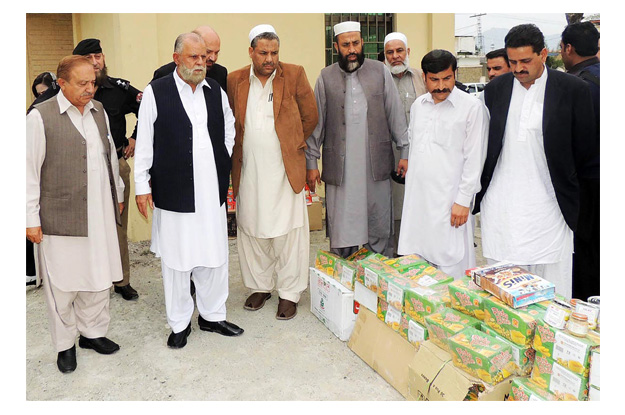 ---
MANSEHRA: Mansehra saw a flurry of activity on Friday against substandard food products.

A large quantity of expired products and substandard food items was set ablaze by the food department at a warehouse in the city on Friday.

The items – which included edible oil, soft drinks, ice cream, spices and biscuits – had been seized from shopkeepers during a series of search operations in the district during March. Adviser to the Chief Minister on Food Qalandar Khan Lodhi torched these items at the warehouse.

Lodhi drew attention to the government's responsibility to ensure quality food is sold in the market. "The food department has ensured expired products are removed from the market," he said. "It has launched a drive against shopkeepers who are selling these products."

Lodhi asked food officials to visit the market daily and take action against those traders who have violated rules. "This must be done irrespective of any political influences," he said. According to Lodhi, action will also be taken against food department officials who perform their duties in a negligent manner.

"Officials will be sent to the establishment department in Peshawar as a punishment," he said.

The adviser assured there would be no shortage of wheat in the province and the government will meet its target of providing 350 tonnes of the grain.

"The new variety of wheat seeds distributed among farmers in Khyber-Pakhtunkhwa would also help boost output this year," Lodhi said.

Sour milk

At least two milkmen were arrested from Oghi after 80 kilogrammes of substandard milk was seized from their possession on Friday.

Oghi Assistant Commissioner Altafur Rehman told The Express Tribune he had been receiving complaints about adulterated milk being sold at Oghi Bazaar. "On Friday, Salim and Wali Rehman, two milkmen who had been accused of selling substandard milk, arrived in Oghi Bazaar," the AC said. "We managed to obtain milk samples from them with the help of the police and tested them on the spot."

According to Rehman, the samples contained harmful chemicals.  "Both Salim and Wali were taken into custody," he added.

Illegal occupation: Encroachers asked to vacate govt land 




The administration issued notices to over 150 illegal occupants of government land in Darband area of Oghi tehsil, Mansehra on Friday, asking them to vacate the land or be ready for forced removal.




According to a police official, over 150 kiosks, including cemented shop structures, have been raised on government land illegally by occupants over the last few years. Following these encroachments, roads have become narrower causing obstruction in the flow of traffic.

After directives were issued from the provincial government, Oghi Assistant Commissioner Altafur Rehman marked structures in the category of "encroachments" and asked occupants to vacate government land voluntarily. However, according to the police, owners paid little heed to the instructions and continued to occupy government property, forcing Rehman to issue notices for the removal of the shops. He asked the land be vacated within three days, otherwise kiosks and shops will be removed forcibly.

When contacted, Rehman was not available for comments, however, his office assistant confirmed notices had been issued to encroachers.

Published in The Express Tribune, April 2nd,  2016.