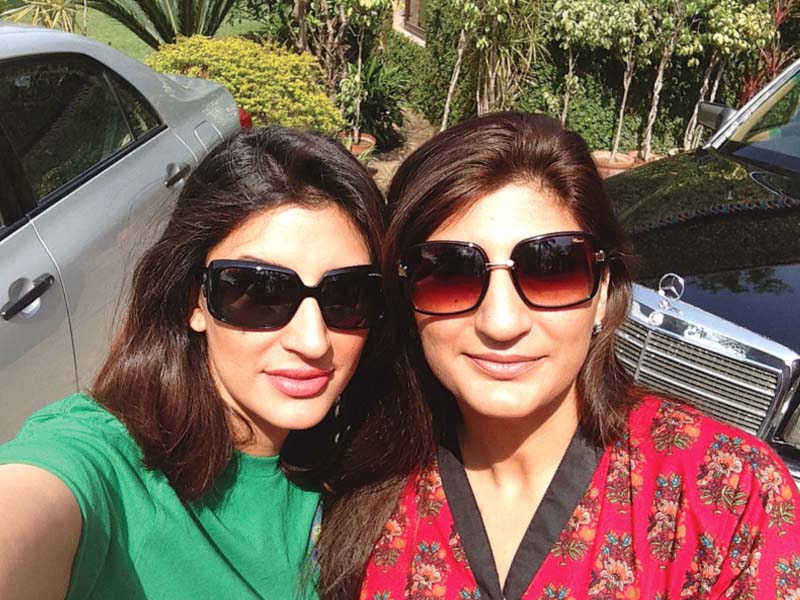 ---
Juju Haider, head of Toni & Guy Islamabad, and her sister Dia Haider rehash the past with us, sharing stories of eating chillies on the counter and fainting in the pool, mothering each other now, and being the best of friends

What's your first memory of each other?

Juju: Dia would sit on the kitchen counter and eat green chilies, after which she would yell like a banshee!

Dia: Juju telling me that she was a witch, and that if I didn't do what she asked, she would eat me up.




What is the craziest thing you have done together?

Juju: If I told everyone what that was, she would be mortified because her angelic reputation would be tarnished.

Dia: We went with our cousin, Deeda, to the swimming pool without our parents having any knowledge of it. Juju fainted and fell in the pool, so my cousin and I had to drag her out of the pool, take her upstairs, change her, and put her to bed before our parents returned.

What did you get punished for the most as a child?

Juju: For always trying to get rid of my baby sister.

Dia: I didn't get punished. Our mother was always telling Juju off, and I'd stand far away and watch. As soon as she was done scolding Juju, I'd start screaming and run and hide.




If you could only wear one piece of clothing for the rest of your life, from the others closet, what would it be?

Juju: Probably her shawls and her watch.

Dia: Her boots.

If you could swap places with each other, what's the first thing you would you do?

Juju: Memorise all her delicious recipes.

Dia: Enjoy being thin!




What is the one thing you love about your sister?

Juju: I love the fact that she takes charge and mothers me like no other.

Dia: Her ability to make up a story for every occasion.

If you are fighting with each other, how do you make up?

Juju: We ignore each other for a while and soon pretend like nothing ever happened.

Dia: I usually ignore her when she's in a bad mood, so it's easier to forgive and forget.

What is the one secret talent your sister has, that you wish you did too?

Juju: The fact that she is so organised, and can put a meal together for 20 people without using much brainpower.

Dia: Her diplomacy.




Describe your sister in three words.

Juju: Nurturing, funny, and dependable.

Dia: Easy-going, diplomatic, and trendy.

Which fictional character is your sister most like?

Juju: Lara Croft.

Dia: Cruella de Vil.

How are your personalities similar?

Juju: We have the same joie de vivre.

Dia: We both have the same sense of humor.

I can't live without my sister because…

Juju: She balances my craziness and understands
my idiosyncrasies.

Dia: No matter how scary she can be and how much I make fun of her, I still love her to bits!
COMMENTS
Comments are moderated and generally will be posted if they are on-topic and not abusive.
For more information, please see our Comments FAQ