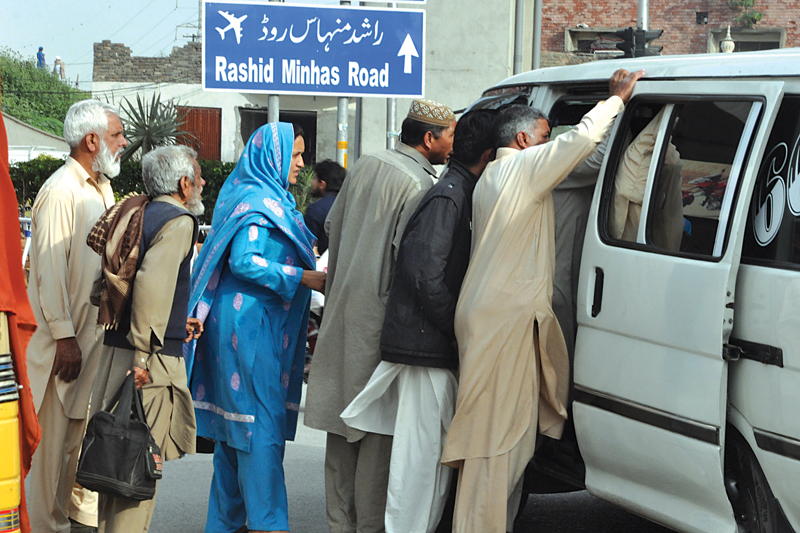 ---
RAWALPINDI:



The significance of subsidised fares on the Metro Bus Service has been noticeable for the last three days as commuters in the twin cities of Rawalpindi and Islamabad have been forced to pay higher fares due to its temporary closure.




Thousands of people use the buses to travel to intra-city and intercity locations in the twin cities for work or leisure every day. Since the subsidised service started in June last year, no privately run transporters have been plying the same routes in Rawalpindi.




The Rawalpindi City District Government suspended the bus service on March 27, after religious activists observing a chehlum for assassin Mumtaz Qadri ransacked multiple bus stations.

"I work at a private bank in Blue Area in Islamabad. I live in Tench Bhatta and have been using the metro to get to work," said Sidra Anjum, who took a cab to work on Tuesday.

Ans Khan, who runs a shop in F-8 Markaz, said that it had become difficult for him to get to work after the suspension of service. "Travelling on the metro helped me save money. Now I have to spend more just to get to Islamabad," he said.




Taxi drivers have been making hay of the sully gap on Murree Road for two days. There is no public transport from Saddar to Faizabad on major road in the city, and cabbies have been taking multiple passengers in cabs while charging them Rs100 each for the 10-kilometre stretch, said Muhammad Zeeshan, who was standing outside the GPO building in Saddar. He said rickshaw drivers had also been charging higher-than-usual fares.

District Coordinator Sajid Zafar Dal and Rawalpindi Commissioner Azmat Mahmood, were unavailable for comment.

There is no designated spokesperson for the Metro Bus Service.

A Rawalpindi Development Authority official said, on condition of anonymity, that the government would not allow the bus service to resume as long as the pro-Qadri protesters were present in Islamabad.

The RDA official noted that protesters had already damaged metro stations in Islamabad, and that the government would have to repair them before the service could be resumed.

Published in The Express Tribune, March 30th,  2016.