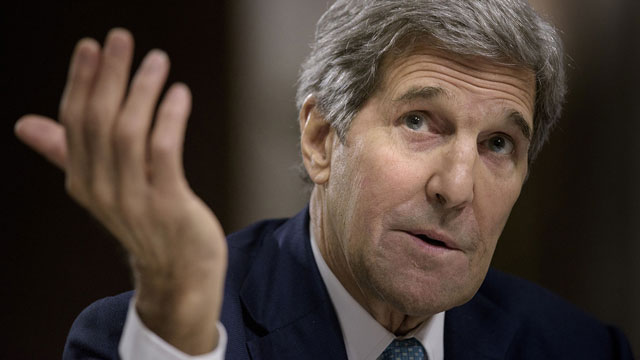 ---
United States Secretary of State John Kerry has termed Republican candidates' 2016 election rhetoric against Muslims an "embarrassment" to his country.

"Everywhere I go, every leader I meet, they ask about what is happening in America. They cannot believe it. I think it is fair to say they're shocked," Kerry said on Saturday in an interview on CBS' 'Face the Nation' show.

Obama slams 'inexcusable' anti-Muslim political rhetoric

The secretary of state went on to say, "It upsets people's sense of equilibrium about our steadiness, about our reliability, and to some degree I must say to you, some of the questions the way they're posed to me it's clear to me that what's happening is an embarrassment to our country."

Although Kerry did not mention anyone by name, it is believed he was referring to Republican frontrunners Donald Trump and Texas Senator Ted Cruz, both of whom have called for strict surveillance of Muslims in the US.

While Cruz has proposed sending police to surveil, "patrol and secure" Muslim neighbourhoods, and surrounded himself with advisers whom experts call "terrifying" on issues of civil rights, Trump has proposed a temporary ban on Muslims entering the US, and said he would order the military to torture prisoners and to bomb the families of terror suspects, in contravention of international law.

Pentagon says anti-Muslim rhetoric undermines US national security



Kerry, who recently returned from his Brussels visit, said there is a "great urgency" in Europe to fix the intelligence gaps which led to the bombings at the Brussels airport and the Maelbeek Metro station last week.



"We've been engaged actually, with the Belgium authorities for some period of time now trying to fill gaps that they're aware exist," he said. "And I think everybody is now geared up to recognise that the fight is not just in Iraq and Syria but the fight is wherever those fighters have come from."



In response to a question regarding Brussels attack, Kerry said Americans don't need to "live in fear" while travelling abroad. However, he cautioned that Americans can and must be "vigilant."

Presidential candidate Cruz appoints Islam critics as advisers

"Well it's really a matter of common sense, but there are guidelines and the State Department is ready to help anyone understand exactly what that means," he said.

This article originally appeared on CBS News.
COMMENTS
Comments are moderated and generally will be posted if they are on-topic and not abusive.
For more information, please see our Comments FAQ