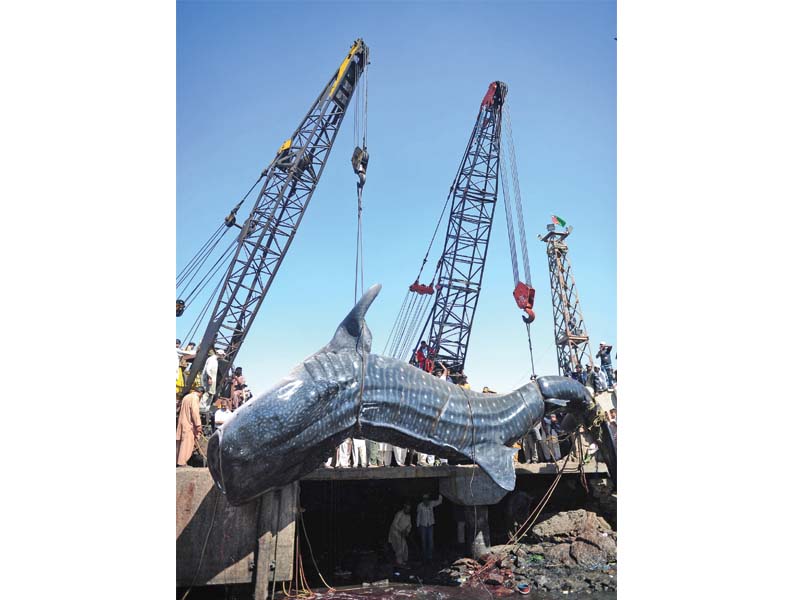 ---
KARACHI: Pakistan is ranked as eighth highest exporter of shark fins and is considered to be an important shark fishing nation, said WWF-Hong Kong global shark programme leader Dr Andy Cornish.

He was speaking at first-day of a workshop on the conservation of sharks at the Pearl Continental hotel on Monday. The three-day event has been organised by World Wide Fund for Nature-Pakistan (WWF-Pakistan) in collaboration with the climate change department.

There are a handful of locations in the world where whale sharks aggregations have been reported, said University of Karachi Institute of Marine Sciences assistant professor Dr M Shoaib Kiani. Pakistan is one such location. The sharks have been recorded to be present in Churna Island, Ormara and Jiwani, he claimed.

Raising awareness

Gillnetting is one of the major causes of high mortality among endangered species such as sharks, remarked WWF-Pakistan marine fisheries technical advisor Muhammad Moazzam Khan. Fishermen have many a times killed these 'gentle giants' to save their nets. WWF-P initiated a campaign to create awareness among fishermen and now they rarely kill sharks, he added. Sharks are not legally protected in Pakistan, but now that fishing community considers them an important marine animal and avoids killing them for extraction of liver oil, he claimed.

Local and global demand

During the last few decades shark resources have substantially declined, said WWF-P coordinator Umair Shahid. "Some of the shark species have become critically endangered and have been exploited beyond their sustainable limits."




Cornish also said that the global demand for shark meat is increasing, especially since new markets have emerged in South America. This will have a serious impact on shark fishing in the developing countries. There should be a national plan of action to ensure that shark are conserved globally, he stressed.

Data reveals that there has been an over-exploitation of marine resources, especially sharks and rays, said marine fisheries department director Waseem Khan. The current stock assessment survey shows that fish stocks have decreased to one-third of that recorded in 1980s.

He called for immediate measures for conservation and re-building of these resources. He also suggested that in order to restore the fish stocks, the existing fishing fleets should be reduced by 50 per cent.

Published in The Express Tribune, March 29th,  2016.