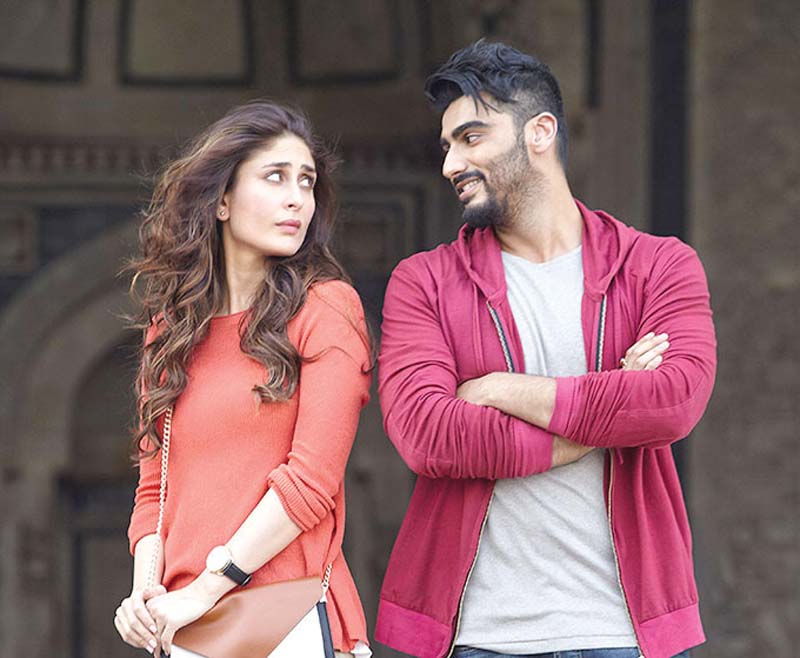 ---
ISLAMABAD:



His filmography may not hold much weight yet but Arjun Kapoor sure knows how to give his contemporaries a run for their money. Just six films in, the actor seems to have perfected the art of versatility and has always brought something new to the table, both on and off screen. Upholding this legacy, Arjun is now gearing up for yet another out-of-the-box act in R Balki's upcoming romantic comedy Ki & Ka.




The 30-year-old spoke to The Express Tribune about new film, his Pakistani ancestry and the possibility of joint ventures between Indian and Pakistani film-makers. According to Arjun, the governments of both India and Pakistan are responsible for the lack of successful collaborations between the two countries. "A film is not something that can be made over the phone or Skype. Creative people meet, spend time together and then come up with something," Arjun explained. "Sadly, Indians are not very easily accepted in Pakistan and that has a lot to do with the governments. They don't create a congenial environment, just do business together. Films, however, don't have any borders!"

Kareena and Arjun challenge gender roles in 'Ki and Ka' trailer




Arjun's paternal roots germinated in Peshawar, a city he hopes to visit sometime soon. "My grandfather is from Peshawar; he was born there. So we are the Kapoors who hail from that side of the world," shared the son of producer Boney Kapoor. "My heritage is Pakistani and I have loads of Pakistani fans on social media who I would love to connect with. I would love to visit but I'm waiting for something special, to give the audience a good time."

For him, both India and Pakistan have similar cultures and thought processes — something he is banking on with Ki & Ka for the film tackles gender inequality in Eastern societies. "I would like to believe there are people [in Pakistan] who have had the conversation about giving women the opportunity to go out and work. But even our homemakers are not given due credit," he claimed. "I think liberal minds of Pakistan, especially youngsters who vouch for equal opportunities, will enjoy the film. I am very positive about Pakistan and Pakistani family audiences," Arjun added.

Arjun Kapoor refuses to watch Sonam's 'Neerja'

Ki & Ka depicts the story of a young couple whose relationship reverses prevalent gender roles, with the husband (Arjun) keeping house and the wife (Kareena Kapoor Khan) working a full-time job. The film — which marks Arjun's first collaboration with the fellow Kapoor — delivers an important message about power structures in families. "It doesn't deal with male and female empowerment as such, but more with how society doesn't accept anyone who is slightly different or unique," said Arjun, when asked if Ki & Ka propagated gender equality. "Women are much more empowered now and it's high time men start to respect that."

Public response to Ki & Ka's trailer has been lukewarm, with some criticising the film for banking on idealistic situations and popular narratives. Arjun, however, remains undeterred. "It's very easy to just sit back and say things without having watched a film. You should watch it till the end and then form an opinion," he said. "Ki & Ka is primarily about a couple that has made certain choices which society is not okay with, but they really don't care. Society has a habit of interfering and banking on idealistic situations anyway."

The Gunday star went on to elaborate upon his views regarding preconceived gender roles that underpin our societies. "Men should be allowed to do what they want to do and the same goes for women. Why should the husband decide whether the wife can work or not? Why hold back a woman when she is talented?" questioned Arjun. "We have taken a bold step in making Ki & Ka and hope to not only entertain people but also evoke a thought in them. People need to be more positive about these things."

Considering the film's unusual storyline, it wouldn't be wrong to classify Ki & Ka with recent films like Kapoor & Sons and 2 States that have not refrained from addressing taboos. According to the actor, the time is ripe to inculcate social change, as the modern audience is now willing to listen. Putting out a film that addresses social issues and mirrors the current state of the world can inspire viewers to rethink their beliefs — exactly what Arjun hopes to achieve. "No actor takes on a role hoping to create a legacy. They just try to do justice to the role provided," he stated, when asked of his expectations from Ki & Ka's unique script. "It's the audiences that matter most. I think I am too young to find a legacy and right now, I just want to do films, relate to my fans and let them [fans] enjoy what they watch."

Published in The Express Tribune, March 28th,  2016.

Like Life & Style on Facebook, follow @ETLifeandStyle on Twitter for the latest in fashion, gossip and entertainment.
COMMENTS (2)
Comments are moderated and generally will be posted if they are on-topic and not abusive.
For more information, please see our Comments FAQ