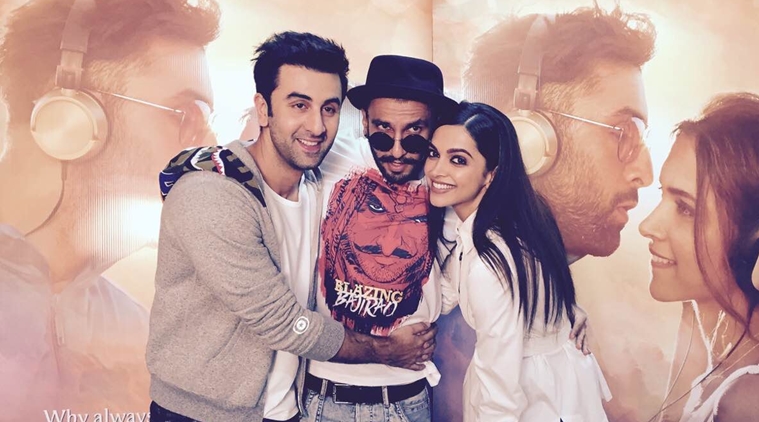 ---
The reigning queen of Bollywood, Deepika Padukone, has made her way to Hollywood, but that hasn't spared her from tabloid gossip.

Her relationship status is frequently scrutinised at the mere event of her meeting any man except rumoured boyfriend Ranveer Singh.

Recently, the gossip mills started churning when reports of Deep's meetings with ex flame Ranbir Kapoor, after his break up with Katrina Kaif, emerged.

Did Ranveer Singh just confirm his relationship with Deepika?

They were spotted hanging out at Ranbir's house and spending quality time together, but a source has revealed the real reason for their meeting, reports Times of India.

"Deepika is not getting back with Ranbir, nor trying to patch him up with former girlfriend Katrina. There might be a possibility that the two are coming together for a film and have been discussing just that. There is no possibility of Deepika intervening or playing mediator for Ranbir and Katrina," the source was quoted as saying.

The source also added that Ranveer and Deepika are "as good as being engaged!"

"Ranveer Singh has nothing to worry. In fact Deepika and Ranveer are as good as being engaged. Both their families are extremely fond of each other and there is no scope for an ex-lover issue cropping up to damage their equation. Ranveer is very much aware of Deepika meeting Ranbir and he's extremely cool about it," it added.

No wedding bells for Deepika-Ranveer anytime soon?

Wow, that's some news! And the videos and photos of Ranveer and Deepika in Srilanka corroborate the story. Ranveer joined his lady love for her bff's wedding in Srilanka and the two seem to be really happy together.

Check out their moves on Balam Pichkari from Deep-Ranbir starrer Yeh Jawani Hai Deewani:


[VIDEO] Ranveer Singh and Deepika Padukone dancing to Balam Pichkari at the wedding in Sri Lanka. pic.twitter.com/hLZPSwCwk3

— Ranveer Planet (@RanveerPlanet) March 26, 2016


The internet is setting up Deepika Padukone with Zayn Malik

And these adorable pictures of them with Nadir Firoz Khan's baby show that they are ready to start a family of their own:




There! Hope the rumour mills can rest now.