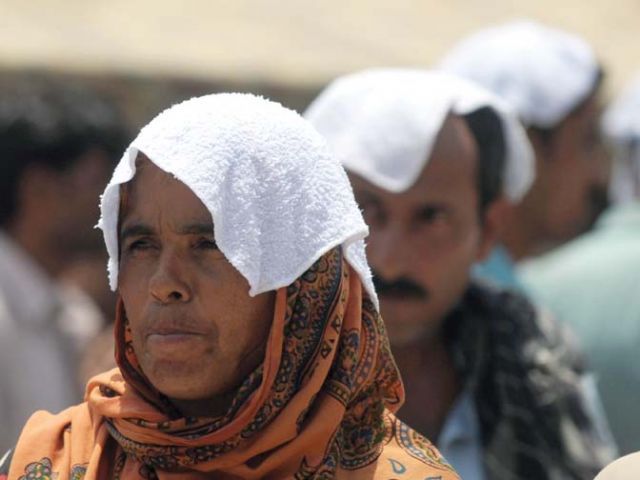 ---
KARACHI:



The heatwave this year is likely to hit the metropolis in the last week of May or first week of June, warned Pakistan Metrological Department director Abdul Rashid, while speaking at a seminar on Thursday.




Hundreds of fatalities resulting from the unprecedented heatwave last year were apparently due to a lack of coordination between these agencies, participants of the seminar titled 'Heat Wave Management, A Shared Responsibility' and organised by the Sindh Environmental Protection Agency were told.

Karachi braves record heatwave this month

According to Karachi Metropolitan Corporation administrator Roshan Ali Shaikh, coordination problems occur due to the excessive number of municipalities in the city. He pointed out that the city has a number of laws but the government has failed to effectively implement them.




"In Karachi, there isn't single agency to deal with natural disasters, nor is there any coordination agency," he stressed.

According to Shaikh, only the Karachi commissioner's office performs the duty of coordination but it fails to do so effectively. Speaking on the District Disaster Management Authority (DDMA), he said people are usually unaware of the organisation since it is nonfunctional. "The head of the DDMA is actually supposed to decide when a particular incident can be classified as a disaster," he said, adding that last year had the DDMA been active, it could have directed K-Electric to cut off power supply to the industries and start supplying to residential areas instead.

Joint executive head of Jinnah Postgraduate Medical Centre (JPMC), Dr Seemin Jamali, said one of the lessons learned from past experiences was that there is no central command and control system during the heatwave and every institution works without coordination.

Heatwaves are practically undetectable

She pointed out that no awareness campaigns are being held in the city.

"More than 10,000 people were brought to the JPMC in five days of the heatwave," she said, explaining that a heat wave is an extended period of extreme heat, often accompanied by high humidity. Dr Jamali said during last year's heatwave, 84 deceased people were brought to the JPMC, out which 59 were male and 25 were female. Two hundred and ninety-nine patients died at the hospital, she added.

Talking about coping measures, she advised people to drink plenty of fluids - five to seven ounces every 20 minutes. She said that employees should be provided enough cool, fresh drinking water during working hours and recommended drinking at least four cups per hour for the entire shift.

Pakistan Disaster Management Authority director-general Syed Suleman Shah said temperatures rise due to abnormal weather patterns, high humidity, low air velocity and also dry wind. Speaking on the impact of the wave, he said that 65,533 people were brought to hospitals in Karachi, while, 731 people were brought to the hospitals in the rest of the province.

The total deaths reported, according to him, were 1,233 from Karachi and eight from other districts of Sindh. Shah said that there should be heatstroke treatment centres at all hospitals and awareness of self-care and individual-level prevention from heat stroke should be encouraged.

Shedding light on last year's heatwave, he said the intensity of heat started from June 19, when the temperature rose to 41 degrees centigrade. It then reached its peak on June 21, at 45 degrees, and started subsiding by June 24, when it dropped to 38 degrees .

Heat is on: Similar heatwave may scorch Pakistan in 2016

He also pointed out that one of the reasons of the high number of fatalities during the heatwave last year was that it came during Ramazan, the month of fasting. He said beggars throng the city during the holy month as people tend to give charity and usually live on the streets [where they are vulnerable to extreme weather].

Published in The Express Tribune, March 25th,  2016.