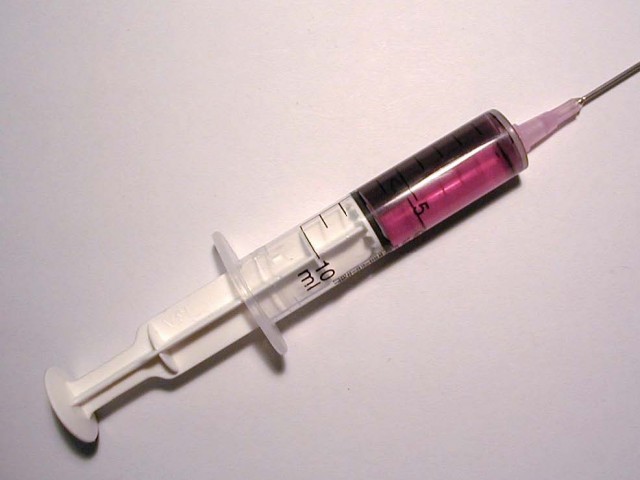 ---
ISLAMABAD: An application has been moved in the Supreme Court, requesting an early hearing of a petition dealing with supply of injections laced with radioactive contamination for diagnosing cancer.

Mohammad Riaz Pasha, a scientist serving as an adviser in the Pakistan Atomic Energy Commission (PAEC), had moved a petition, inviting the court's attention to the supply of diagnostic injections, containing unsuitable radionuclide, which can cause cancer through prolonged exposure.

In other words, a person going to hospital for diagnosis of cancer might get the disease if diagnosed with these injections supplied by the Pakistan Institute of Nuclear Science and Technology (Pinstech) managed by PAEC.

The top court on February 2 asked the federal government and the PAEC chairman to reply to allegations levelled by the petitioner.

Pasha told The Express Tribune that despite the passage of more than one month, the department concerned has yet to file a reply over his petition; therefore, he has moved a plea for fixing hearing in the week commencing from March 28.

In his petition, the applicant stated that all of the 14 cancer treatment hospitals operating under the PAEC have been supplied radioactive-contaminated injections since 2010, and administered to thousands of patients.

He said these injections — produced by the fission of highly enriched uranium in nuclear reactor at Pinstech — irradiate the blood producing bone marrow and can cause Leukaemia and other malignant blood diseases.

"It is like fitting an atomic bomb into the body. The results could be failure of organs as well as the entire nervous and immune systems... that too at a stage where it was yet to be diagnosed whether the patient was suffering from cancer or not," Pasha said in the petition.

Earlier case

Pasha agrees that this is the same case that was taken up suo motu and disposed of by SC on April 3, 2014, when a report submitted by Pinstech denied the allegations.

In its findings, Pinstech had stated that an inquiry committee had checked all batches of Molybdenum-99 produced at Pinstech and found it to be in order, the report had assured the court. It also claimed that the Pakistan Nuclear Regulatory Authority, being an independent regulator and licensor, also conducts random testing.

Molybdenum-99 is the parent radioisotope — obtained from uranium-235 — and is used to produce the daughter isotope technetium-99m, which is used in many medical procedures.

Pasha says he had been involved with the quality control of the manufacturing and production of Molybdenum-99 through technetium-99m generators by Pinstech and had found contaminations that could lead to cancer at the level of diagnosis.

He claimed that complete picture was not produced before the apex court when it was hearing the suo motu case.

Published in The Express Tribune, March 24th, 2016.
COMMENTS
Comments are moderated and generally will be posted if they are on-topic and not abusive.
For more information, please see our Comments FAQ