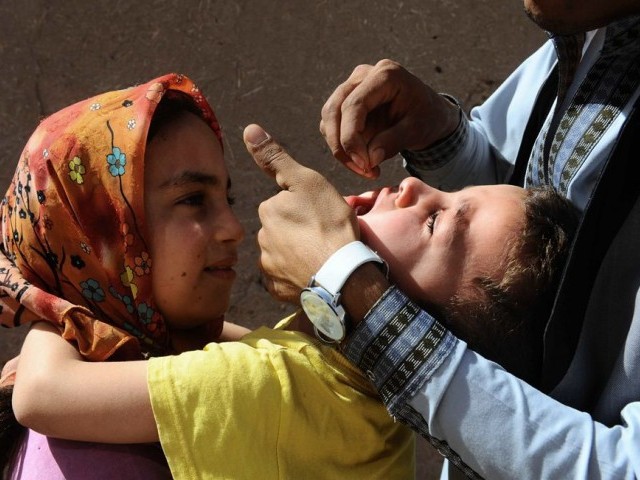 ---
PESHAWAR: Children across the globe are vaccinated against polio up to the age of five. However, with the international community calling the Pak-Afghan border the route of the poliovirus, the age limit to vaccinate children in that specific region has been extended to ten years.

Officials told The Express Tribune Pakistan and Afghanistan were the only countries in the world where the virus exists. The two corridors through which the virus spreads are Nangarhar, a province in Afghanistan, Khyber Agency and Peshawar, and Qandahar, another province in Afghanistan, and Quetta. Since the sites have been identified, permanent teams have been deployed there to inoculate children up to 10 years of age.

Expanded Programme on Immunization (EPI) National Manager Dr Rana Safdar told The Express Tribune earlier the practice was to vaccinate children under five years of age. "However, after a meeting with Afghan officials, it was decided to extend the age limit and administer polio drops to children under ten years of age," he said.

"Usually, our teams would administer polio drops to around 60,000 children [under the age of five] every month. However, with the age limit being extended in February, that number has doubled," Safdar said. He added a new strategy was adopted whereby children's thumbs were marked.

Importing and exporting a virus

Safdar said some six cases were reported in 2016, of which three were traced back to Afghanistan.

"The sewerage samples obtained from Qila Abdullah in Balochistan and Faisalabad in Punjab tested positive for poliovirus," he said, adding the virus was traced back to Afghan provinces Nangarhar and Qandahar.

Safdar shared some 120,000 children were out of reach of polio workers in Afghanistan, adding a special campaign has been scheduled where only Afghan nationals will be vaccinated. "We have decided to conduct a special campaign in Peshawar's higher-risk areas [which are densely populated with Afghan nationals]. We will solely focus on Afghan children [as part of that campaign]," he said.

However, a senior official dealing with EPI said people who are nomads do not transfer the virus from one place to another. "Even if they were to transport the virus, it will never survive," he said, adding programme officials had been keeping a record of families who have been coming and going. "Children who come with families to observe religious festivals are also administered polio drops," he said. They also keep a record of where the families are coming from and where they intend to go.

During a meeting held in February, the International Health Regulations (IHR) committee re-emphasised the existence of the poliovirus in Pakistan and Afghanistan meant there was a risk for it to travel to other countries.

Nonetheless, even though various rules have been put in place and efforts are under way to eradicate the disease, Afghan nationals continue to refuse their children from being inoculated. Many say their children were inoculated against the virus in Afghanistan so there is no need to vaccinate them again. However, polio experts always emphasise that under such conditions where the virus has not been interrupted, parents should not hesitate to vaccinate children again and again.

At Torkham, the border of Khyber Agency with Afghanistan, parents who refuse to have their children vaccinated are denied entry in Pakistan.

Published in The Express Tribune, March 24th, 2016.
COMMENTS
Comments are moderated and generally will be posted if they are on-topic and not abusive.
For more information, please see our Comments FAQ