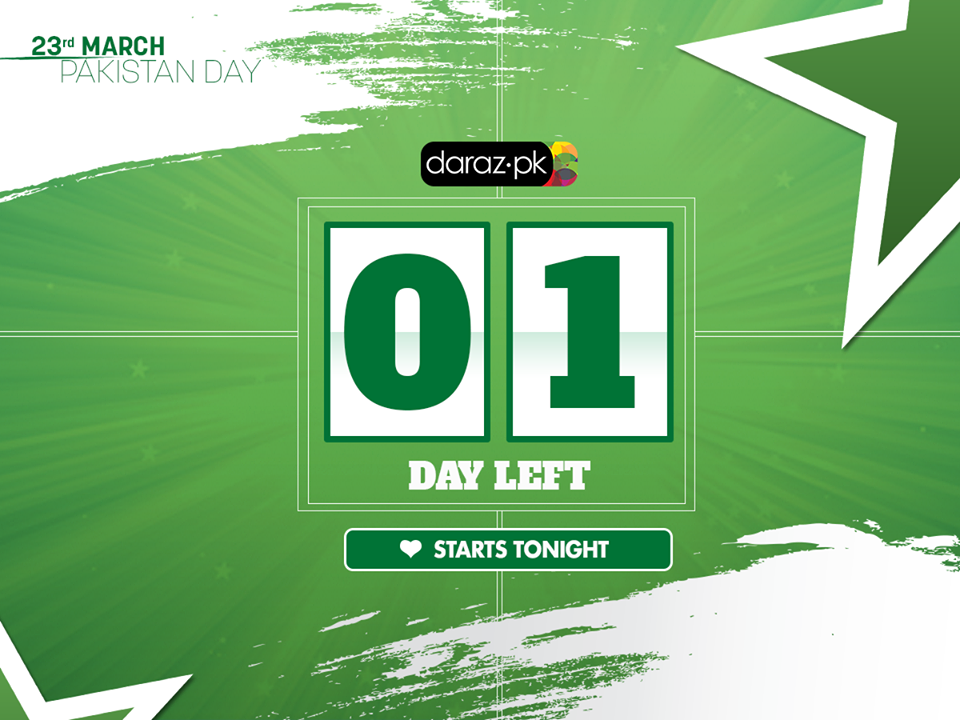 ---
This March 23, grab your laptops, cell-phones or make yourself comfortable in front of your PC, kickback and put your most favourite patriotic song on because Daraz.pk has a surprise for you.

In honour of Pakistan Day, Daraz.pk has taken a pledge to give back.




You Buy One, We Donate One:

With their 'You Buy One, We Donate One' campaign, Daraz has committed, not only to a massive online sale event with discounts up to 70 per cent on all its retail categories, it has also promised to help one Pakistani in need on every item sold on its portal this Pakistan Day!

Jonathan Doerr, Co-CEO Daraz says,

"I hear there is no better way of feeling a sense of patriotism than celebrating Pakistan Day or Independence Day here. Be it parades or boisterous festivals, I'm looking forward to the festivities. I love how patriotic Pakistanis are – it's inspiring."

He adds that,

"We want to celebrate Pakistan Day with our customers – what could be better than treating them to a mega sale event on March 23. Year after year, more and more customers shop for deals on Daraz.pk from the comfort of their own home(s) – we are committed to making that process even better for them. And as we endeavour to make the app shopping experience more seamless, customers now have plenty of options when it comes to scoring great deals from Daraz.pk. Those who don't have the Daraz app on their phones, should download it now."

Pakistan Day sale:

With unexpected flash sales and crazy discounts on fashion and electronic products, customers will have access to 23 mega deals, starting at midnight, all through the day.




The sale is expected to have a minimum of 23% off on fashion goods, up to 67% off on computing and up to 50% off on home and decor items. Other offers include, up to 56% off on Microsoft Lumia phones, 24% off Panatron refrigerators and a staggering 20% off on the iPhone 6 Plus, as well as an additional 10% Easypay discount on selected items.

How can you help give back?

Aside from being available on www.daraz.pk/pakistan-day-sale, these discounts and offers will also be available on the Daraz mobile app. Shoppers will receive notifications on their mobile devices throughout the day to take advantage of the deals, even while being on-the-go.

And the best part is, for every item you buy, Daraz.pk will help one Pakistani in need! So log on to Daraz.pk to celebrate Pakistan Day with those who deserve it just as much but are unable to enjoy the same luxuries as you.




By joining hands with its customers, and other companies, this endeavour aims at working towards spreading smiles and positivity this Pakistan Day.