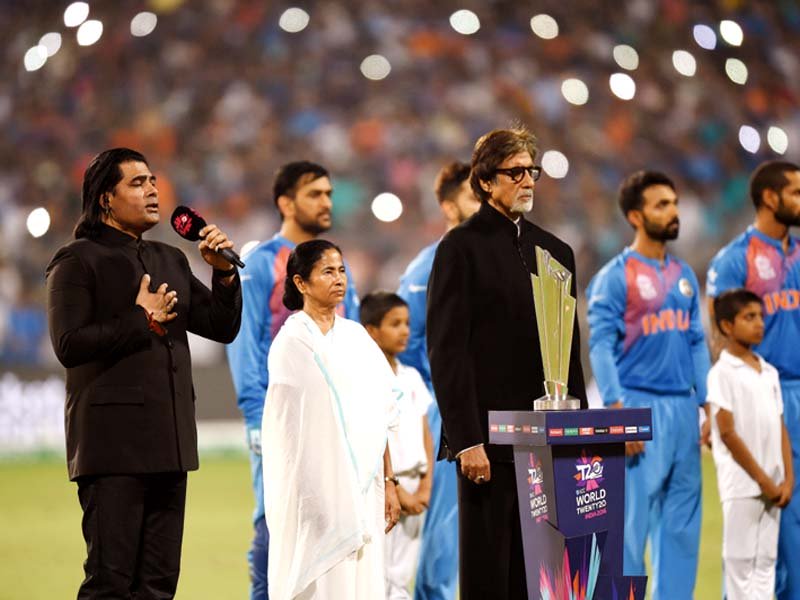 ---
KARACHI:



Given the buzz surrounding the India-Pakistan cricket face-off, organisers of the World T20 had worked to the best of their knacks to fly in Amitabh Bachchan and Shafqat Amanat Ali to sing the respective national anthems of their countries before showdown. While Amitabh's performance was more of a precursor to India's passionate on-field performance, Shafqat seemingly failed to make the nation proud with his otherwise immaculate singing skills.




Within minutes after he was done with the performance, the former Fuzon front man drew the ire of his fellow countrymen, forcing him to later post a lengthy apology on Facebook, explaining that what appeared as him forgetting the lines was rather an "audio and technical" glitch.

In light of the controversy, heavyweights of the music industry have thrown weight behind the Amanat scion. A frequent performer across the border, Ali Zafar said Shafqat would come out of the incident as a better person. "I can understand the sentiment of the general public but one thing that should be understood is that human error is something unavoidable," Ali told The Express Tribune.

Having recently performed at the Pakistan Super League (PSL) opening ceremony, the 'Rockstar' could relate to the pressure and weight of expectations on Shafqat during the performance. "We should not disown or isolate him based on this mistake. Shafqat bhai's contribution is immense and all of that must not be forgotten only because of one mistake."

Echoing Zafar's sentiments was renowned musician and philanthropist Abrarul Haq.

A long-time friend of Shafqat, Abrar said it was not intentional. "The criticism is justified because it is the national anthem and he was representing us, that too in hostile territory," stated Abrar. "But we should not criticise him just because of that. We should, instead, learn from these mistakes. As a nation, we have a terrible tendency of not learning from our mistakes."

Even Atif Aslam, one of Pakistani most successful exports to India, showed support for the Mitwa singer. Drawing parallels with fast bowler Mohammad Amir's case, Atif said things have been blown out of proportion. "Even Amir bowled no-balls and now he is back and performing to the best of his ability. We should forgive and forget," he maintained. Commenting on the praises Amitabh received for his performance, he said, "I don't know the facts but from what I saw, I think Amitabh Bachchan was lip-syncing." Agreeing with Atif, Abrar went on to say that Shafqat could have made use of a teleprompter.

Musician Zoheb Hassan said even the best of batsmen get dismissed on their very first delivery. "It is only human to commit an error. Big concerts tend to have these technical issues," he said.

On the other hand, there are some who are still unhappy. One of the most proponent critics was Shafqat's former band mate, Imran Momina, commonly known as Immu. "I think he lost it big time. An ordinary man, if presented with such an opportunity, would have sung with more emotion. His over-confidence may have caused the slip. Just look at Amitabh. He is in his 70s and he didn't forget the lines," he shared. "How can you forget the lyrics to the national anthem? It is wrong to forget something you learn as a child!"

Despite the overt criticism flying his way, Shafqat is not the first artist to perform his national anthem incorrectly. Nearly half a decade ago, Christina Aguilera found herself in a similar fix when she messed up the lyrics to the American national anthem at the Super Bowl XLV ceremony.

Published in The Express Tribune, March 22nd, 2016.

Like Life & Style on Facebook, follow @ETLifeandStyle on Twitter for the latest in fashion, gossip and entertainment. 

COMMENTS (27)
Comments are moderated and generally will be posted if they are on-topic and not abusive.
For more information, please see our Comments FAQ