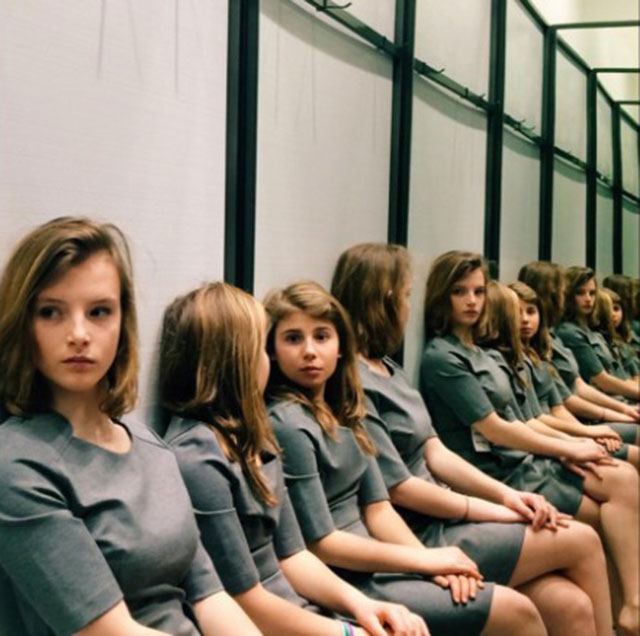 ---
A new photograph taken by a Swiss photographer has become a viral sensation after fierce debate over the number of girls in the simple shot.

It doesn't seem that complicated to figure out how many girls are in the photo but people are freaking out as they argue over it.

https://www.instagram.com/p/BCoJDlSIIIx/?taken-by=tizzia

The latest head-scratching viral snap started making rounds on social The latest head-scratching viral snap started making rounds on social media after Swiss photographer, Tiziana Vergari posted the image on her Instagram page. The picture was posted as a contribution to 

Instagram's weekend hashtag project

,  a series where the platform sets a weekly challenge for users around a theme.

Last week's topic, #WHPidentity, asked the Instagram community to share images and video "celebrating individuality."

Vergari's post, however, was an 'optical illusion' where the same faces were seen repeated and gave rise to immense confusion and debate among the social media community.

Can you figure out what colour this jacket is?

It seems nobody can agree whether 13, three or two sets of twins are captured in the photograph. Or whether it is something else entirely.

One user left baffled by the photograph resorted to focusing on the little details and posted: "Four, two of the girls have bracelets on plus the eye line is different on two of the girls."

However, using another logic, another user said: "I see 6 girls when you look at the bracelets."

The post has become a viral sensation with over 17, 400 likes since it was uploaded last week and has taken a life of its own.

Meanwhile, Vergari has confirmed that the photograph she took features two sisters looking into a mirror. Despite this, users continue to debate the number of girls and how the "optical illusion" was captured in the first place.


What colour is this dress that broke the internet?

Around the same time last year, the image of a dress went viral on social media and sparked an intense debate between everyone who has seen the dress. While some saw the dress and said it was black and blue, others were convinced it was white and gold.

It seems that this post will continue to attract further comments and disagreement as the debate rages on, even on Twitter.


Eye Test : How many girls in this picture???? https://t.co/3nqmIWwNKi

— Learning With Himanshu (@SpirituallyTrue) March 15, 2016


https://twitter.com/JonDonnis/status/710445900888412160

https://twitter.com/davincianguy/status/710460025089761280


How many girls in this picture? Courtesy of the Telegraph! Tell the boys @LeshavDilraj & @Kavish15 #AfternoonDrive pic.twitter.com/6BucZj76lP

— Hindvani (@RadioHindvani) March 17, 2016
People are going nuts guessing how many girls are actually on this picture. Any guesses? ~Chris https://t.co/xapF5bk1Di

— KFOR Radio (@KFORRADIO) March 18, 2016
How Many Girls in This Picture? pic.twitter.com/syuwNSZ7mo

— Alejandra Chang (@Satellinet) March 18, 2016
This article originally appeared on CNN.

COMMENTS (6)
Comments are moderated and generally will be posted if they are on-topic and not abusive.
For more information, please see our Comments FAQ