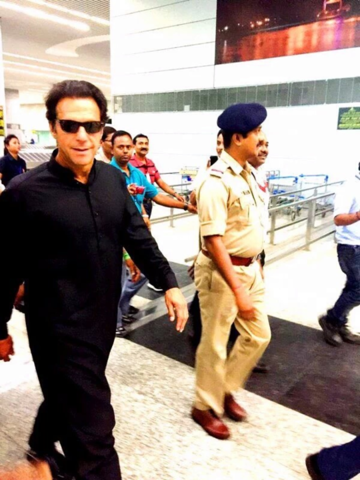 ---
Cricketer-turned-politician Imran Khan arrived in Kolkata on Saturday to watch the high-voltage Pakistan-India World T20 clash.

https://twitter.com/HashmeNabeel/status/711142390166372352

The Pakistan Tehreek-e-Insaf chairman met the greenshirts at Taj Hotel in Kolkata and urged the team to be "fearless."




Abdul Basit granted visa for Pakistan, India T20 clash

The 1992 World Cup winner spoke to the team for around 30 minutes as everyone listened to his advice carefully. He assured the players that Pakistan has got a real chance to turn the history of not winning against India today in Eden Gardens.

"You all have to relax, don't take any pressure and feel good out in the ground," a team official quoted Imran as saying.

"All of you should step out in the ground with an aim of coming out victorious from this and whatever you think in your mind, happens actually if you work hard for it," he added.

Imran claimed that Indians will be y under pressure as they are the ones who are coming into the tie back of a devastating loss whereas the greenshirts have the got a win under their belt.

The cricketer-turned-politician also urged head coach Waqar Younis to make some bold decisions and send Umar Akmal and Shahid Afridi in top order just like Afridi came out to bat at four in the last outing.

"Everyone is really charged up after getting support of Imran just before the team had to leave for Eden Gardens. His final words were boys win it tonight and I'll meet you people again in person to congratulate you all. Let's do it," the official revealed.

The cricketer-turned-politician who had led Pakistan to the World Cup in 1992, departed for India on Friday to attend the World T20 match in Kolkata.


"I will try my best to give them tips in light of my own experience and meet the players before the match," Imran told reporters at his Bani Gala residence in Islamabad before leaving India.





The 63-year old told the media that skipper Shahid Afridi had sought his advice for the match and he will give suggestions and "experience-based tips'' to win the game.

Cricket chachas to miss out on Pakistan-India T20

Imran will also commentate for Sky Sports.

India and Pakistan will grind to a halt Saturday as hundreds of millions of cricket fans gather to watch the World Twenty20 match between the two nations in Kolkata's Eden Gardens stadium.




The cricket-mad neighbours, who have gone to war three times since independence, share one of the world's fiercest sporting rivalries and their rare showdowns on the pitch can bring both to a standstill.

7 facts you need to know ahead of Pakistan-India WorldT20 clash

Tensions have prevented the two sides from playing each other in Tests for more than a decade, and the match is only happening because the T20 is an International Cricket Council (ICC) tournament.