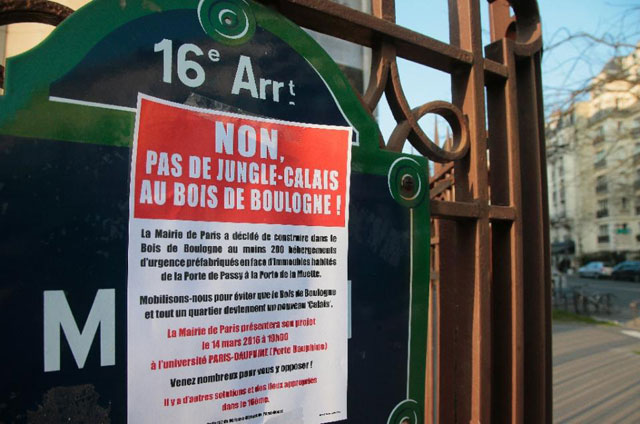 ---
PARIS:

A shelter for homeless people and refugees in Paris's poshest district? To residents, the very idea is enough to raise the hackles on their fur coats.




They fear a planned centre on the edge of the Bois de Boulogne, a forested area west of Paris, will turn their beloved woods into a sprawling refugee camp like the notorious "Jungle" in northern Calais.




With all emergency shelters currently full to bursting, and increasing numbers of migrants arriving in Paris, the city is determined to find new ways to house those left out on the street.


UNHCR to ask world to take in 400,000 Syrians

Local government officials have argued that the chic 16th arrondissement -- a Parisian version of New York's Upper East Side -- is not pulling its weight, as not one of the capital's 78 homeless accommodation centres is in the district.

Their answer: six pre-fabricated wooden structures in the 16th that will house 200 homeless people.

"People in this neighbourhood are outraged," said Bernadette, watching her toddler grandson play in a quiet park near the proposed development, as a few bored-looking ponies stood waiting for rides.

"There are not a lot of jobs for people like that. Where will they do their shopping?" said Bernadette, who owns a restaurant nearby.


"The supermarkets here are unaffordable, even the Moroccan grocer is too expensive. Obviously people are also afraid they will come closer to the residential area, this park, that they won't have work and will just squat here."


'Caviar protests' 

The project has sparked outrage in the calm, residential area with its elegant buildings overlooked by the distant Eiffel Tower.

On Monday, angry residents launched a barrage of profanities at officials attending a town hall meeting that had to be cut short as it descended into chaos.

"The people of the 16th are known for sitting on their asses, watching TV and eating caviar, but they will defend their interests like anyone else," said the mayor of the district, Claude Goasguen, from the opposition Republicans party who has led the charge against the centre.

The outcry "shocked" Prime Minister Manuel Valls, who weighed in, saying the centre -- set to open in June -- was "essential so that populations in difficulty are not only housed in working-class neighbourhoods."

Canada gives computers to Syrian refugees

Aside from Paris's increasing homeless population, hundreds of north African migrants set up a camp under a bridge which was cleared out last June, and the city has had to find places for them in emergency shelters.

"Everyone is saying they are going to rebuild a Calais and they will stay here and never leave," said Bernadette.

Thousands of migrants fleeing poverty and war in the Middle East and North Africa have gathered in Calais in grim conditions, trying to reach Britain on lorries crossing the Channel.

However, in reality France has been affected far less by Europe's refugee crisis than other countries. Nearly 80,000 people applied for asylum in France in 2015. In contrast, more than one million people arrived in Germany last year.

Faced with growing anger, authorities have insisted the centre will not be dedicated to migrants, but for those who phone an emergency number used by homeless people seeking a bed.

But in reality, many homeless in Paris are asylum-seekers.

And the proposal approved by Paris' city council describes the project as necessary to "meet the needs of the homeless and migrants."

Stigmatise the bourgeoisie 

Brigitte Andre, 60, who was Nordic walking with a friend, lives opposite the proposed site, which is next to a municipal swimming pool and not far from a horse-racing track.

She is worried about the impact on the forest, security, and she is angry that residents were not consulted.

"They mustn't stigmatise us by saying the bourgeoisie don't want this. It is a lot more complicated," she said.

Refugee misery reaches peak at crowded Greek camp: UN

"We have friends who live (in the north). One must not turn a blind eye, Calais is a devastated city," she said.

Paris authorities have dismissed concerns over the environmental impact, saying the structures will be placed on the edge of the woods and not inside it.

Once a hunting ground for France's kings, the Bois du Boulogne, with its idyllic lakes and jogging paths, also conceals one of the city's red light districts.

But not all in the area oppose the project.

"Why not? It must just not be too big (and) impact the atmosphere and also the architecture, because this is a beautiful neighbourhood. It must not be something like Calais," said Elena Lambin, 28.

The tumult in the 16th has amused average Parisians who have mercilessly mocked their wealthier neighbours on Twitter.


"I remind all the homeless that to fit in in the 16th, your sweater should not go around your waist, but around your shoulders," read one tweet.
COMMENTS
Comments are moderated and generally will be posted if they are on-topic and not abusive.
For more information, please see our Comments FAQ