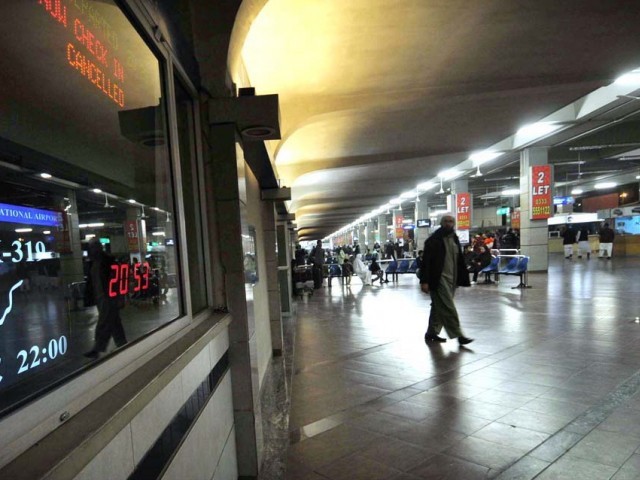 ---
ISLAMABAD:



Even though billions of rupees have been spent over the project, the completion of work on the new Islamabad international airport appears nowhere in sight as the Civil Aviation Authority (CAA) on Wednesday failed to give the Public Accounts Committee (PAC) a definitive deadline.




While giving a special briefing to the parliamentary panel on the project, CAA Director General (DG) Asim Suleiman said work on the airport would finish by mid-2017. However, PAC members raised eyebrows over Suleiman's commitment and gave him one more chance to come up with a final date.

New Islamabad airport: Over Rs16b approved for acquiring land




"There are no roads, no water and no electricity [in the area where the airport site is located]… are you sure the project will be finished [by 2017]… I challenge you it will not," said Pakistan Tehreek-e-Insaf's Arif Alvi.

"We don't want to just grill people at this forum," said PAC Chairman Khursheed Shah. "[But] we do not like to be made fools of. It is unlikely this project will be completed in the next two to three years… [so] we want you to give us a deadline," he added.

Shah warned Suleiman that they could always take the issue to parliament, opening a new 'Pandora's box'.

At that, the CAA head asked for a month's time to complete his 'homework' and check the status of each of the project's components.

Shah also contested the figures Suleiman gave during his briefing. The CAA DG claimed that 60% of work had been completed and Rs51.23 billion in payments had been made. "Don't misguide the PAC… 85% of work has been completed," the panel chairman countered.

Upgraded facilities: 'Old' Islamabad airport gets Rs460m makeover




According to details, the airport project was approved in 2003-04, ground breaking was performed in April 2007 and the original PC-1 of Rs36.86 billion was approved in March 2008. However, the revised PC-1 pushed the cost to Rs81.17 billion. Seventeen different contractors are working on the airport and CAA has acquired 3,289 acres for Rs950 million for the project.

During his briefing, the CAA DG candidly admitted that the PC-1 was flawed and work was being done on an ad-hoc basis, with project directors being changed frequently.

"Who is responsible [for this mismanagement] and what action have you taken?" asked Arif Alvi.

"Unfortunately, no punitive action has been taken so far but we have launched an inquiry and those responsible will be taken to task," Suleiman replied. The reply could not satisfy the committee.

Sheikh Rohail Asghar of Pakistan Muslim League-Nawaz also pointed out that two runways of the airport had been completed without meeting international standards. "The people building the runways do not know the standard space kept between two runways. Because of this, the two runways cannot be used simultaneously. Who is responsible for this?" he asked.

Ankle deep: Despite renovation, rainwater floods airport

In response, the DG admitted that the space between two runways should have been one kilometer, which was not the case. "However, we will build a third runway according to the master plan," he said.

"What was a taxiway in the PC-1 has been turned into a runway, and now you are going for a third," remarked Shah.

Meanwhile, National Highway Authority Chairman Shahid Ashraf Tarar briefed the committee about the roads connecting to the new airport and said work will be completed by the end of this year.

Published in The Express Tribune, March 17th, 2016.
COMMENTS (12)
Comments are moderated and generally will be posted if they are on-topic and not abusive.
For more information, please see our Comments FAQ