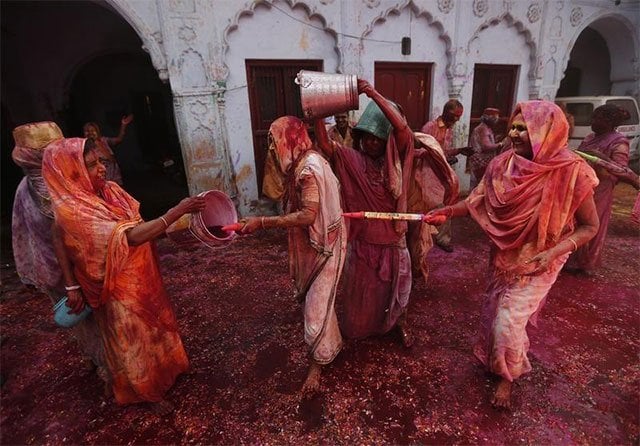 ---
ISLAMABAD: The government on Tuesday reluctantly accepted a resolution moved by a ruling party lawmaker in the National Assembly seeking 'closed holidays' on the annual festivals of minority communities, including Holi, Diwali and Easter.

Dr Ramesh Kumar Vankwani, a PNL-N MNA elected on a seat reserved for minorities in Tharparkar district of Sindh, presented
the resolution which said: "This house is of the opinion that the government should take steps to declare Holi, Diwali and Easter as closed holidays for minorities."

NA urges govt to declare Holi, Dewali and Easter as holidays

Vankwani, who is also patron-in-chief of the Pakistan Hindu Council, was of the view that the announcement was inevitable for the good image of Pakistan as such holidays were also being observed in the United States on Eid, and in India on Muharram.

The resolution, however, took the cabinet ministers by surprise, and Minister of State for Religious Affairs Pir Aminul Hasnat Shah was visibly confused when Speaker Sardar Ayaz Sadiq asked him if he agreed with the resolution.

Hasnat said the interior ministry had the authority to notify such holidays and that his ministry has nothing to do with it. However, he was hesitant to give a categorical reply when the speaker asked him again if he opposed the resolution.

Information Minister Pervaiz Rashid came to Hasnat's rescue. He said the minorities could be granted holiday by their respective offices. "Pakistan already has one of the highest rates of public holidays compared to the rest of the world," he added.

Speaking on the occasion, Minister for Religious Affairs Sardar Mohammed Yousaf said it was the interior ministry's prerogative to make such decisions. Ignoring Yousaf, the speaker once again asked Hasnat if he endorsed the resolution. Hasnat, now visibly exasperated, replied, "As you wish", which elicited a chuckle from both treasury and opposition benches. Later, in response to the speaker query, Parliamentary Secretary for Interior Mariyyum Aurangzeb said they would not oppose the resolution which was subsequently passed.

The second blow

Since Tuesday is a private members' day in the National Assembly, Aurangzeb had to beat a retreat after opposing a resolution by PTI's Murad Saeed which asked the government to take steps to strengthen Pakistan-Afghanistan border security.

US declines to declare national holiday on Eid

She talked about the ministry's initiatives to secure border and then stated that the government would oppose it. It invited ire of opposition lawmakers, not only of the PTI but also others. After over 50-minute heated discussion, Aurangzeb said she would not oppose the resolution but would only share the interior ministry's version about securing border.

Aisha Syed of Jamaat-e-Islami walked out of the house with four other MNAs in protest against 'the government's reluctance' to release development funds for women parliamentarians.  Earlier, the assembly passed six bills, related to different issues, including an amendment in the Constitution.

Published in The Express Tribune, March 16th, 2016.