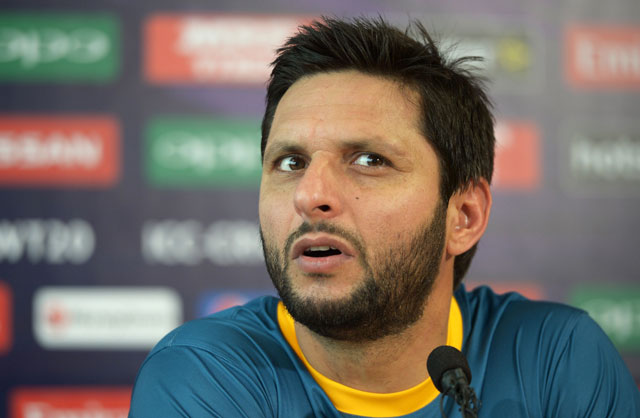 ---
Pakistan T20 captain Shahid Afridi on Monday clarified his "more loved in India than Pakistan" statement after he landed himself in hot water.

In a bid to tone down the controversy regarding his statement, Afridi clarified he didn't mean any disrespect to Pakistani cricket fans. "I was only trying to send a positive message in a diplomatic way," the 36-year-old explained.

"Whatever I am today, is only because of Pakistan and the fans in Pakistan. Nothing is more important to me than Pakistan and people of Pakistan," he added.

Loved by Indian crowds more than ones back home, says Afridi

The all-rounder further said, ""I am not just the captain of Pakistan's cricket team I am representing the whole country here. The one statement I gave recently should be taken as positive."

Afridi also added that former Pakistani greats such as Wasim Akram, Waqar Younis, Inzamam-ul-Haq would also say the same thing about India. "Even if you ask the former greats such was Wasim Akram, Waqar Younis, Inzamam-ul-Haq, Imran Khan they all will say the same thing. People in India worship cricket and it is like a religion here," Afridi added.

Afridi served legal notice over 'more loved in India than Pakistan' statement

The veteran all-rounder caused uproar after he said crowds in India gave him more love than crowds back home. "We have always enjoyed playing in India and have been loved by Indian crowds more than crowds back home in Pakistan. Cricket has always brought people together and I think politics should be kept away from cricket," the T20 captain said while addressing his first press conference after having landed in India for the tournament.

Afridi's statement drew scathing criticism from some, including former skipper Javed Miandad. "These cricketers should be ashamed of themselves for saying such a thing. Shame on you!" said the former skipper.

Pakistan ready for World T20: Afridi

The 58-year-old said Pakistan should focus on cricket rather than pander to the hosts. "What have the Indians given us? Speak the truth even while in India. For the last five years what have they given us or done with Pakistan cricket? Having served Pakistan cricket for so many years, I am shocked and hurt to hear such comments from our players," he said. "The job of this team is to go and play well in India, not make such unnecessary comments."

The 36-year-old was also served a legal notice on Monday by Judicial Activism Panel Chairman Azhar Saddiq. The notice pointed out that establishing diplomatic relations or otherwise is the duty of the government and not of a player, adding the Pakistan team captain should not have issued such a statement.

The 2009 World T20 champions will kickoff their campaign against Bangladesh on Wednesday, March 16 at Eden Gardens, Kolkata.


COMMENTS (14)
Comments are moderated and generally will be posted if they are on-topic and not abusive.
For more information, please see our Comments FAQ