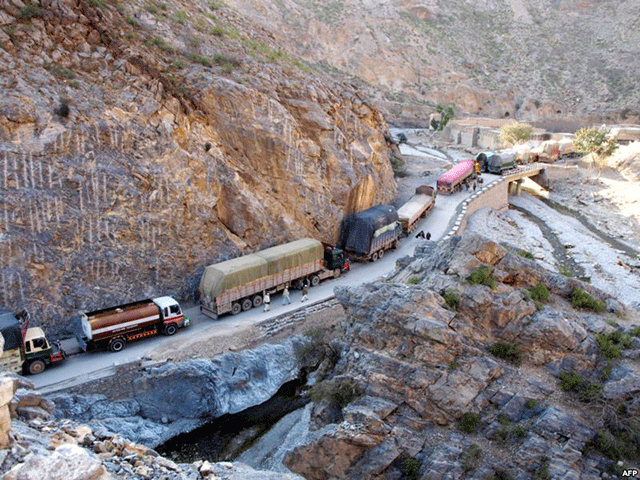 ---
Pakistan-Afghanistan relations are multi-dimensional, encompassing political, economic, cultural and people-to-people ties. Because of many unresolved issues, the relationship has been, for the most part, a roller coaster ride. Seldom have the two countries been able to realise and profit from the enormous latent potential of bilateral ties that could have a substantive impact on the lives of their rank and file. It is mind-boggling how, living in such close proximity and sharing such deep historic bonds of affinity, Islamabad and Kabul have failed to develop a better understanding of the perceptions, fears and suspicions in each country that impinge on the formulation of policy affecting their mutual ties.

A few months ago, the adviser to Pakistan's prime minister, while on a visit to the United States, asserted that Pakistan will not accept a Taliban government in Afghanistan. The statement was denounced, not by the Taliban but by the presidential spokesman in Kabul who emphasised that it is not Pakistan but the people of Afghanistan who have the right to choose the type of government and people who would lead such a government. In other words, Afghans would not tolerate any covert interference, even if such intervention would attempt to weaken the government's enemies.

Hizb-e-Islami to join Afghan peace talks

Such a lack of comprehension for Afghan sensitivities has been the fatal hallmark of the formulation of Pakistan's thinking on issues affecting its relations with its western neighbour. Another area where this lack of concern for Afghanistan's sovereignty is manifested is the naive attempts by Islamabad to guide Kabul's policy in its relations with India.

This India-centric approach is fundamentally a negativistic concept that seeks to restrict India's role in Afghanistan assuming that by so doing, it (Islamabad) would create a hegemonic or an exclusive strategic space for itself that will enhance Pakistan's geo-political and economic interests.

There are two important points to be noted in this theory. One, such an attitude or policy has not worked. Despite Pakistan's many overtures and deep contacts with Kabul, the bilateral Afghan-India relations have continued to grow. India has made an investment worth $2 billion in Afghanistan, becoming the 4th biggest donor to its rehabilitation. More importantly, India is viewed by most Afghans as a friend and ally.

Two, the policy tends to alienate Afghans more than Indians because they lose vast opportunities of easy, direct trade with India via Pakistan's land route.

Key Pakistani-Afghan trade deals stall on India, souring ties

Denying the use of the land route for trade between Afghanistan and India has been an inexplicably bad preposition. It has caused immense and deep resentment, not only in the ruling circles but also amongst the population of Afghanistan — a resentment that borders on hostility. As a matter of fact, allowing the use of the land route for transit goods between India and Afghanistan would have been a tremendous and, perhaps, decisive factor that could have opened possibilities for more extensive contacts in other areas. The Pakistani transport sector could have directly benefited from the transit trade. Pakistan and India could then begin to take each other into confidence with regard to their roles in Afghanistan, which would not necessarily be mutually exclusive. Trade brings people together like no other activity.

And what has Pakistan gained as a consequence of the denial of the Wagah-Torkham route to both India and Afghanistan? Nothing, except the ire of the Afghans and a deepening level of distrust with India.

Persisting with policies that bring little comfort and so much misery is beyond one's comprehension. Those who would justify such an approach on grounds of 'reciprocity' for what India is presumed to be doing in Balochistan against Pakistan's national interests, need to think again. India's alleged interference in Balochistan or Pakistan's in India is a longstanding issue that relates to the broader problem of the overall relations between the two South Asian neighbours. That problem would not go away soon. But in this case, it's more a matter of our relations with Afghanistan.

Good relations with Afghanistan are an indispensable ingredient of our foreign policy. At stake is not only the stability and security of our 2,200-kilometre-long border, but also trade with Central Asia, benefiting from Afghanistan's vast, untapped mineral resources, investment, more than 80,000 expatriate workers, besides of course 1.5 million Afghan refugees still on the soil of Pakistan.

Pakistan must allow Afghanistan direct trade access to India through Wagah: Ghani

Can we afford to lose our relevance to Afghan peace, Afghanistan's reconstruction and rehabilitation and having invested so much in that country now destroy our goodwill because we would continue pursuing a policy that has not delivered and is not likely to deliver any positive outcome in the future?

While the world moves on, while borders are vanishing, while trade, investment and energy corridors are becoming the order of the day in a new globalised environment, we in India and Pakistan seem totally oblivious to the powerful currents of change sweeping the world.

We are, as far as our relations are concerned, frozen in time — even as millions of people in South Asia go hungry every day and 440 million in India and more than 45 million in Pakistan live below the poverty line.

We owe it to the teeming millions living in the subcontinent to wake up to the realities, forego our jingoistic and pathetically absurd notions of nationalism and begin to dispassionately reappraise our policies in order to help create an environment of trust, tolerance and accommodation, in which to pursue the goal of closer economic, political and cultural contacts for the benefit of the people and the region.

Published in The Express Tribune, March 14th, 2016.

Like Opinion & Editorial on Facebook, follow @ETOpEd on Twitter to receive all updates on all our daily pieces.
COMMENTS (26)
Comments are moderated and generally will be posted if they are on-topic and not abusive.
For more information, please see our Comments FAQ