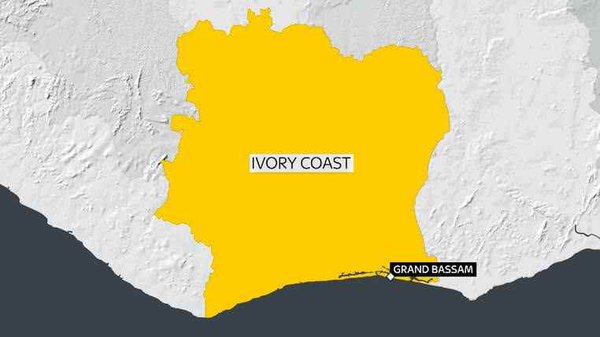 ---
GRAND BASSAM, IVORY COAST: Seven people were shot dead on Sunday during an attack on a beach in a resort town in Ivory Coast carried carried out by at least four gunmen, a witness said.

"I saw seven dead that I filmed. There were four attackers. I was swimming when it started and I ran away," said Dramane Kima, who showed the video of the bodies to Reuters.

He also took pictures of grenades and ammunition clips that he believed had been left behind by the attackers.

The assailants, who were "heavily armed and wearing balaclavas, fired at guests at the L'Etoile du Sud (Southern Star), a large hotel which was full of expats in the current heatwave," a witness told AFP.


Some of the weapons found in Grand #Bassam, definitely point to an organized attack #IvoryCoast pic.twitter.com/ezJJeFrHHa

— Michael A. Horowitz (@michaelh992) March 13, 2016
BREAKING: At least 6 dead as gunmen open fire at Grand-Bassam resort in Ivory Coast, French media reporting

— Lisa Daftari لیسا دفتری (@LisaDaftari) March 13, 2016


Attacks in recent months on luxury hotels in the capitals of neighbouring Mali and Burkina Faso have left dozens of people dead, leaving West African nations scrambling to boost security in the face of a growing extremist threat.

27 dead in Tunisia tourist resort attack

Analysts have voiced fears attacks could spread to countries such as Ivory Coast and Senegal, and the region's US-led Flintlock military exercises that wrapped up recently focused on the need to counter extremism.

Home to some 80,000 people, Grand-Bassam holds UNESCO World Heritage status thanks to its elegant colonial-era facades.