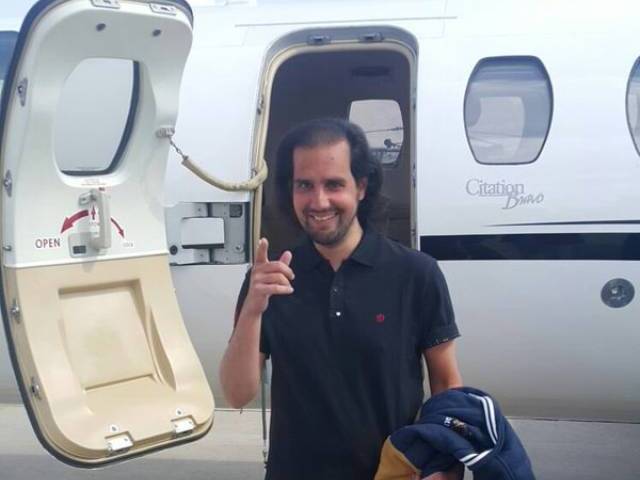 ---
QUETTA/ ISLAMABAD:



An inquiry committee has concluded that Shahbaz Taseer was not rescued in a security operation, rather he was freed by his kidnappers of their own will.




It is premature to say ransom was paid to secure the release of slain Punjab governor Salmaan Taseer's son, says the inquiry committee in a report submitted to Interior Minister Chaudhry Nisar Ali Khan on Saturday. "Facts and evidence show that Shahbaz Taseer has not been recovered through any operation, but his captors set him free on their own."

Afghan Taliban deny 'rescuing' Shahbaz Taseer

The release of the report coincided with the Afghan Taliban's denial that they played a role in either kidnapping or releasing Shahbaz. The committee recommended issuing an official rebuke to the officers who had informed the minister that Shahbaz was rescued in an operation. "No institution has the right to claim credit for Shahbaz's recovery."

Shahbaz Taseer was abducted at gunpoint in Lahore on August 26, 2011, months after his father was assassinated by Mumtaz Qadri for opposing the blasphemy laws. He was found by security and intelligence officials in the Kuchlak area of Quetta on March 8.

Aitzaz Goraya, the head of Balochistan's Counter-Terrorism Department, claimed Shahbaz was rescued during a raid on a compound in Kuchlak. He claimed police and intelligence officials had raided the compound after receiving a tip-off. The provincial police chief also told the interior minister that Shahbaz was rescued in a police raid.

A section of Pakistani media, however, reported that Shahbaz was recovered by the Taliban from Afghanistan's Zabul province, where he was reportedly being held by Uzbek insurgents.

Fear can hold you prisoner, hope can set you free: Shahbaz Taseer

Taking notice of the conflicting accounts, Nisar constituted a high-level committee, comprising an additional interior secretary and the director general of the National Crisis Management Cell, to ascertain the facts surrounding Shahbaz's recovery.

Kakar insists Shahbaz was 'recovered'

The Balochistan government's spokesperson, Anwarul Haq Kakar insisted Shahbaz was 'recovered', saying the interior minister was trying to create discord. Kakar had claimed that Shahbaz was recovered in a joint raid by paramilitary troops and intelligence sleuths. He had heaped praise on the security forces for it.

"'Recovered' is the most appropriate word to describe the episode," Kakar said, adding that it wasn't a sin to praise the security forces for 'this achievement'. He said Shahbaz had been in the captivity of Uzbek terrorists for four and half years before the Afghan Taliban sent him to Pakistan with Rs15,000.

Mystery continues to surround Shahbaz Taseer's release

Taliban deny role in Shahbaz's recovery

The Afghan Taliban, however, denied they played a role in the rescue and recovery of Shahbaz Taseer. Taliban spokesman Zabihullah Mujahid told The Express Tribune that the group was 'unaware of the incident'. "Our Mujahideen had never been involved in it. We neither held him [Shahbaz], nor released him," he said.

When asked, Mujahid termed 'baseless' reports that the Taliban had released a statement confirming the rumours of playing role in Shahbaz's rescue. "We have not issued any statement as the issue does not relate to us," he said in replies sent through WhatsApp.



Published in The Express Tribune, March 13th, 2016.