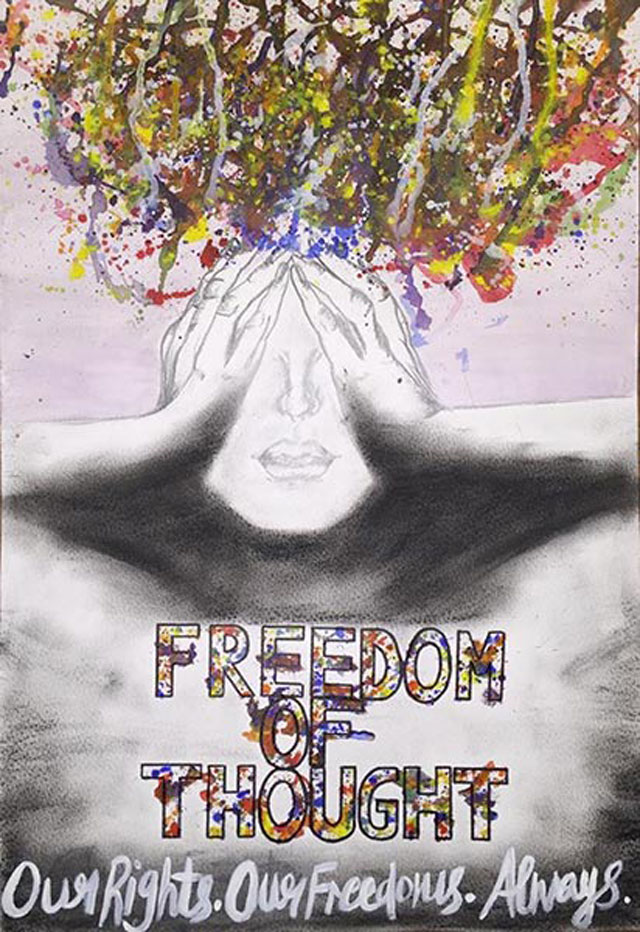 ---
A Pakistani teen has won the global United Nations Human Rights Office poster competition for children this week.

Eiza Abid, 15, won in the 12-18 age group, in which contestants were asked to illustrate what freedom means to them. Using both dark tones and bright colors, she represented her freedom of thought.

"My painting personifies the darkness and confinement within a person's life and once the person is set free from the pressures and judgement of others, one can freely express their thoughts and imagination in their true colors, illustrating their unique vision and bright outlook," Eiza wrote.

14 times Huma Choudhary beautifully captured people's lives

The competition is part of a year-long campaign by the Office to mark the 50th anniversary of two core human rights treaties, the International Covenant on Economic, Social and Cultural Rights and the International Covenant on Civil and Political Rights.

Winner in the 5 to 11 age group, Alexandria Slaven, 11, from Samoa painted a picture depicting people holding hands and standing by a luxuriant coconut tree.




Eiza's design along with Alexandria's which will be made into posters for use during the campaign, were selected from the winners of local UN competitions organised in seven countries - Armenia, Burundi, Fiji, Madagascar, Pakistan, Samoa and Tunisia.

Art-a-thon: Overcoming societal barriers through art

Fabian Salvioli, Chair of the Human Rights Committee  said: "It is so important to have children celebrating the 50th anniversary of the human rights Covenants through this poster competition"

"For the Covenants to continue to have meaning over the next 50 years, children must be aware of their rights and the importance of the Covenants to their lives and happiness," he said.

Three Pakistanis shortlisted for world's biggest photography contest

Earlier, three Pakistanis were shortlisted for world's biggest photography contest.  Kumail Rizvi, Shahzad Khan and Zohaib Tariq were recognised in the awards' youth competition for photographers aged 19 and under.