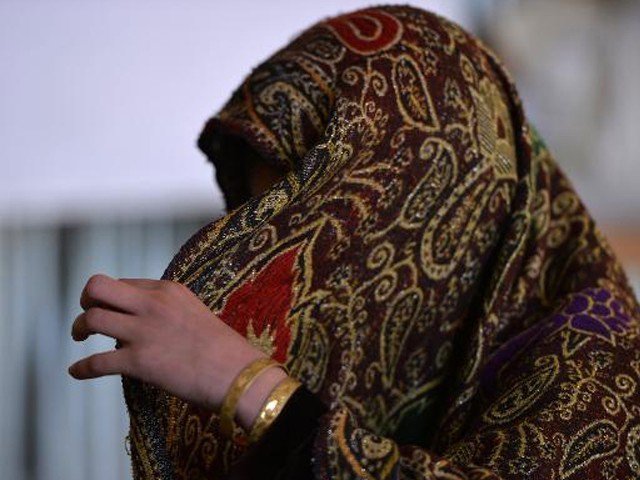 ---
A man chopped off his wife's nose and hair after a dispute broke out between them in Azad Kashmir's Poonch district, Express News reported on Friday.

According to reports, 17-year-old Tayyaba wanted to meet her family but her husband did not allow her to leave which prompted a quarrel in their home at Androt area in Poonch. As the dispute turned into a fierce brawl, the husband reportedly took Tayyaba to a nearby field where he tied her to a tree, chopped off her nose and hair before she fainted.

Middle-aged woman gang-raped at panchayat

The incident occurred on March 8, on the occasion of International Women's Day.

The victim was in her parents' home for the past four to five months due to acrimony and was brought back by her spouse on Tuesday after reconciliation.

Police have launched investigation into the incident and search operations are being carried out to arrest the alleged perpetrator.

Women in Pakistan have fought for their rights for decades, in a country where honour killings and acid attacks remain commonplace.

The incident comes two weeks after Punjab Assembly unanimously passed the Protection of Women Against Violence Bill after opposition members withdrew all nine amendments on the condition that the government ensure enforcement of the law.

Implementing the protection of women law

The bill, which has 31 clauses, provides a system for complaint registration as well as penalties for offenders. Under the law, a family court would fix hearing within seven days from receipt of the complaint. The defendant will have to show cause in court in the same week. All complaints would be decided within 90 days from the day of the receipt.

The law provides that victims of domestic violence cannot be evicted from their homes without their consent. If they are evicted, the court can intervene. A protection order may also be granted to the aggrieved, directing the defendant to not communicate with her and to maintain distance determined by the court and surrender all licensed weapons.

Punjab Assembly unanimously passes protection of women bill

Penalties include six months imprisonment or R500, 000 fine for obstructing the district woman protection officer from performing her duties. Violation of interim, protection, monetary or residence orders or illegally interfering with the GPS tracker could result in imprisonment up to one year or impositions of a Rs200,000 fine. Repeat offenders may attract double the imprisonment and the fine. However, filing of false complaints may lead to imprisonment up to three months or Rs100,000 fine. A universal toll-free helpline will be set up to contact the protection centres and shelter homes.
COMMENTS (4)
Comments are moderated and generally will be posted if they are on-topic and not abusive.
For more information, please see our Comments FAQ