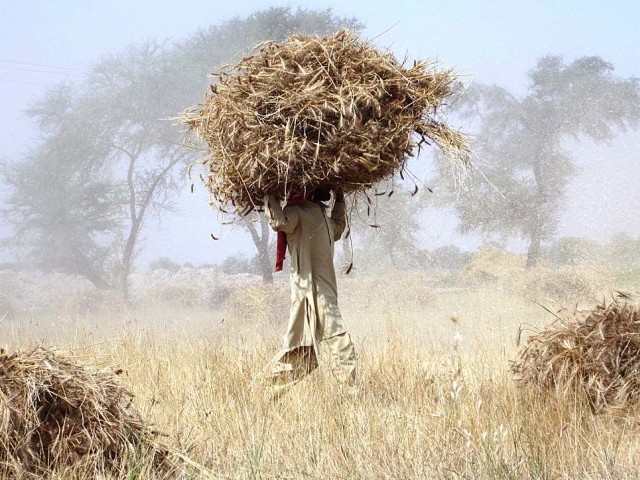 ---
ISLAMABAD: Agriculture and water experts on Thursday stressed the need to take immediate measures to achieve water and food security in the country, saying that production should be increased by 40-50% to cater to the ever-growing population.

"Pakistan has to increase food production by 40-50% to meet the needs of a projected population of 221 million by 2025," said experts, addressing participants at a workshop titled 'Technical Assistance: Balochistan Water Resources Development Project', jointly organised by the Asian Development Bank (ADB), the centre and the province, in collaboration with the Japan Aerospace Exploration Agency (JAXA).

They were of the view that the country's annual water availability per capita was less than the water scarcity threshold of 1,000 cubic metres per capita in 2015. Water variability was further intensifying scarcity and the situation was worse in Balochistan.

"Agriculture sector accounts for about 23% of the country's GDP, 55% of the labour force and supports industry by providing raw material. It is the main livelihood source of the rural community, yet it suffers from water shortage, frequent droughts and poor farming practices.

"It also exposes rural communities to high vulnerability; especially to women and children," said ADB Central and West Asia Department Environment, Natural Resources and Agriculture Division Principal Water Resources Specialist Akhtar Ali.

He emphasised on urgent action to achieve water and food security. A technical assistance of $1.1 million has been provided by the Japan Fund for poverty reduction, which will assist Balochistan to assess basin's water resources and develop priority projects within the two selected basins.

The Embassy of Japan in Pakistan Counsellor for Economic and Development Takashi Harada said the country has been assisting Pakistan in water management and agriculture sector in all regions.

During the workshop, JAXA Satellite Application and Operation Centre Associate Senior Administrator Rio Tanabe shared JAXA's experience of utilising technology for water resources and river basin management.

"Once successfully demonstrated, the WRIS could be extended covering other provinces and entire country. The WRIS, in which major satellite-based data is periodically updated without any cost and GIS is installed, will serve as a data repository and a simple analysis tool for water sector planning in the region," he said. 

Published in The Express Tribune, March 11th, 2016.

Like Business on Facebook, follow @TribuneBiz on Twitter to stay informed and join in the conversation.
COMMENTS
Comments are moderated and generally will be posted if they are on-topic and not abusive.
For more information, please see our Comments FAQ